The Great Britain Cycling Team's track riders kicked off qualification for the Paris Olympic Games with two team sprint silver medals at the UEC Track Elite European Championships in Grenchen, Switzerland.
Women's team sprint
The women's team sprint trio of Lauren Bell, Sophie Capewell and Katy Marchant qualified third fastest in the opening event of the championships, clocking a time of 47.808 seconds.
Facing Belgium in the first round, winner of four national titles Emma Finucane replaced Marchant, and they comfortably progressed with an improved time of 47.156, setting up a gold medal final against Germany.
Marchant returned for the final to replace Capewell, and anticipation in the velodrome was ramped up further when a restart was required. Less than a tenth of a second split the two teams after the first lap, but in the end the German trio proved too strong and took the victory.
Speaking afterwards, Finucane said:
"The girls qualified really well and then I came in after the qualifying, and then to make the gold medal final was amazing. We wanted to take the opportunity to try something new because we're all training through this, so it's just good to see what combinations work, and give each other rest. We've got such strength in depth and it's really cool that we can do that."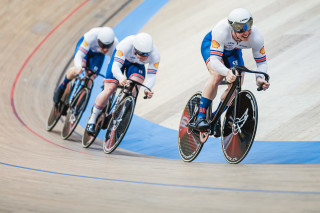 Men's team sprint
Ali Fielding, Jack Carlin and Joe Truman qualified second fastest for Great Britain in the men's team sprint, with their time of 43.145 just three tenths of a second slower than the Dutch, who entered the championships as reigning European, world and Olympic champions.
This saw them paired against Spain in round one, where Hamish Turnbull replaced Carlin, and their victory in a time of 42.997 set up yet another final against their frequent foes in orange.
Carlin returned to the lineup for the final in place of Truman, but the dominant Dutch trio proved too strong and prevailed by just over a second.
On what was his return to major competition after an injury sustained in last summer's Commonwealth Games, Truman said:
"It's a nice way to start the season. We've got a lot of racing coming up so I think we can be happy with that, and personally coming back from injury I'm happy to have bounced back from that."
Fielding added:
"If you look at the progress we're making we're slowly closing the gap [on the Dutch]. It was a bit of a shock for us today, and for Joe to come back from injury, kudos to him, it was unbelievable for him to be here. I think silver is a surprise, so we can be really happy and move forward in a really positive way."
Women's scratch

In a race where the bunch remained largely intact throughout, Great Britain's Ella Barnwell finished sixth, with Portugal's Maria Martins taking home the European title.
Martins and Spain's Eukene Larrarte Arteaga broke free of the bunch in the final 10 laps, leaving the rest of the pack to battle it out for bronze. Despite Barnwell riding confidently as the race entered its final laps, Poland's Daria Pikulik narrowly took the bronze.
Men's elimination
In the men's elimination race, Fred Wright made his return to the track and his senior debut for the Great Britain Cycling Team at a major championships, finishing in 14th. Germany's Tim Torn Teutenberg was the eventual winner.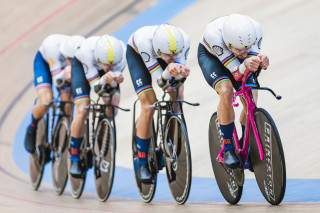 Team pursuit qualifying
Earlier in the day Great Britain's women's team pursuit team (Katie Archibald, Neah Evans, Josie Knight and Anna Morris) qualified fastest in a time of 4:11.594, setting up a first round tie against Olympic champions Germany tomorrow afternoon.
The men's team pursuiters (Dan Bigham, Charlie Tanfield, Ethan Vernon and Ollie Wood) qualified second fastest behind Italy with a time of 3:50.514. The reigning world champions now look ahead to facing Denmark in the first round tomorrow afternoon.
Other medals up for grabs on day two include the men's points race, women's elimination race and men's kilo.
For the full event schedule and results, click here.