British Cycling can today announce the dates and venues for the 2023 national downhill mountain bike championships and series, with national champions' jerseys to be awarded in Rhyd-y-Felin.
The National Downhill Series will be delivered by three separate organisers – Gravity Events, Scottish Downhill Association and Borderline – and once again kicks off in Rheola, on the weekend of April 15-16.
The series then heads to the 2023 UCI Cycling World Championships venue at Fort William in Scotland on 6-7 May. We are pleased to announce this round has been awarded UCI C1 classification, helping the event to attract riders from further afield and provide an even greater spectacle for those watching along the course.
The third round of the series will see riders take to the start in Llangollen on 8-9 July, before heading back to Scotland in Glencoe for round four on the weekend of 19-20 August. The 2023 series will conclude at Antur Stiniog bike park on 23-24 September, set in the stunning North Wales mountains.
The 2023 National Downhill Championships will make a welcome return to Rhyd-y-felin in Wales, which last hosted the showpiece event in 2021, with riders competing for the coveted national champions' jerseys on the weekend of 22-23 July.
An enthralling 2022 series ended in victory for Luke Williamson, with Greg Williamson crowned national champion in Glencoe, while Stacey Fisher capped off a magnificent year with a series and national championships double.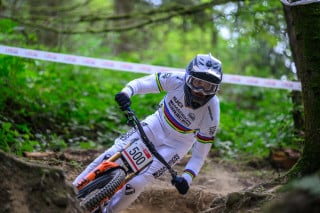 Online entries for the National Downhill Series and the National Downhill Championships will open on Thursday 15 December at 11:00am.
Borderline Events organiser, who will be hosting the National Downhill Championships, Mike Marsden said:
"Myself and the team behind Borderline Events are super proud once again to host the National Downhill Championships and the final round and decider of the series.
"We'd like to thank the team at British Cycling and of course you – the riders – for your continued support. We can't wait for 2023!"
British Cycling's Competition Team Leader, Rick Clarkson, said:
"We're really looking forward to once again delivering a fantastic series of mountain bike downhill events across Scotland and Wales in 2023. Fort William, which will be the venue for the upcoming 2023 UCI Cycling World Championships, is sure to be a highlight of the series as a UCI C1 event, with riders from across the world set to compete, while the National Championships in Rhyd-y-Felin in Wales will be a great opportunity for riders to test themselves against the best in the country. A massive credit for the organisation of this year's series goes to Gravity events, Scottish Downhill Association, and Borderline events - it wouldn't be possible for these events to go ahead without them."
Full Calendar
National Downhill Series
Round 1: Rheola, Wales – 15-16 April (Gravity events)
Round 2: Fort William, Scotland – 6-7 May (UCI C1) (Scottish Downhill Association)
Round 3: Llangollen, Wales – 8-9 July (Gravity events)
Round 4: Glencoe, Scotland – 19-20 August (Scottish Downhill Association)
Round 5: Antur Stiniog, Wales – 23-24 September (Borderline events)
National Downhill Championships
Rhyd-y-Felin, Wales – 22-23 July (Borderline events)