British Cycling can today announce the seven riders who will represent the Great Britain Cycling Team at the UCI Urban Cycling World Championships in Abu Dhabi, from 9-13 November.
Olympic champion Charlotte Worthington is one of two entrants in the elite women's category, having been crowned national champion at Adrenaline Alley last month. Joining her will be world championships debutante and national championships silver medallist Sasha Pardoe. The 16-year-old impressed on her first outing for the team at August's European Championships, finishing in sixth place.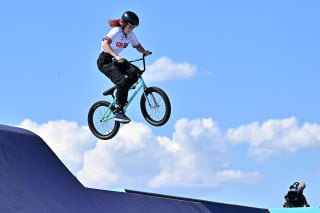 In the elite men's contest, European and national championships silver medallist, Kieran Reilly, will be looking to impress once again, while Ash Finlay and Dylan Hessey will each make their debuts after recently joining the Great Britain Cycling Team programme. Shaun Gornall and James Jones complete the squad.
Great Britain Cycling Team Performance Director, Stephen Park CBE, said: "The BMX freestyle park squad have gone from strength to strength in the past year, developing as individuals and as a team, consistently delivering results and standing on podiums both domestically and internationally.
"We're now blessed with excellent strength in depth, as we've seen with the addition of Ash and Dylan to the full-time programme, as well as Sasha Pardoe's impressive results in her first competitions with the team."
"The riders are supported by a knowledgeable and passionate coaching team, who are continuing to invest in and develop these skilled riders. As we head towards the start of the qualification period for Paris 2024, the world championships not only provides a useful benchmark for riders' performance and goals but allows them to showcase their abilities on the world stage."
Charlotte Worthington added: "The world championships is a key event in our prep for Paris 2024 and a huge opportunity for the team to come together. It'll be a great learning experience for everyone and I'm really excited to see what's going to go down, especially in the women's category – we've really raised the bar this year!
"BMX freestyle is a lifestyle sport, it's a community and a really authentic one. These things aren't new, but showcasing them on this kind of level is, so I'm always keen for any opportunity to showcase this sport and what it means to as many people as possible."

Great Britain Cycling Team squad for the UCI Urban Cycling World Championships:
Elite men
James Jones
Kieran Reilly
Shaun Gornall
Ash Finlay
Dylan Hessey
Elite women
Charlotte Worthington
Sasha Pardoe