The Great Britain Cycling Team will head home from the UCI Para-Cycling World Championships 2022, having achieved their most successful world championships to date. The team has won a remarkable 28 medals, made up of 20 world titles, four silver medals and four bronze medals.
The event closed with yet another haul of medals for Great Britain, including world titles in the men's tandem sprint, C1-5 mixed team sprint, women's C1 omnium and bronze medals in the men's tandem sprint and the women's tandem sprint.
C1-5 Mixed Team Sprint
After taking world titles individually earlier in the competition, the C1-5 mixed team sprint saw Kadeena Cox, Jody Cundy and Jaco Van Gass take another gold. Bringing their individual talents together, the trio breezed through qualifiers in first position with a time of 49.294 seconds. An even faster final ride of 48.675 saw them comfortably beat France to take the win.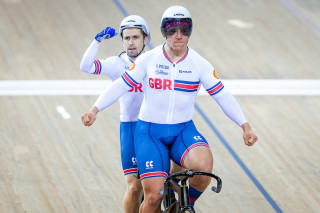 Men's Tandem Sprint
Neil Fachie and pilot Matt Rotherham took their second world title of the 2022 championships in the men's tandem sprint. The pair dominated the opening rounds, qualifying fastest and winning rounds against Italy and France in straight races. The final saw them go head-to-head with Germany where, continuing their dominance, they took the gold medal with back-to-back race wins, making this Fachie's 16th para-cycling track world title of his career.
On the win, Neil Fachie said, "I've not won the sprint world title since 2019 so it's nice to actually win it again, prove I still can. So happy with our qualifying ride; it would have been nice to sneak the world record, but it's by far the closest we've ever got to it again."
Matt Rotherham added, "Two races, two wins and it's been a great week for the team. We've got a lot of new people here, a lot of new world champions and it's been a pleasure to be part of such a good team. It's exciting being here in the 2024 velodrome and it feels like the start of the drive towards that so I hope we can all come together and keep this momentum."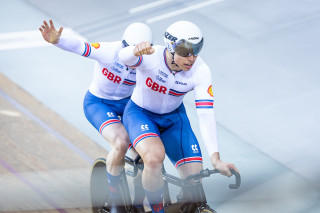 James Ball and Steffan Lloyd made their way to an impressive bronze medal in the same event. Coming from 1-0 down in the first medal race against the French, race two saw them change tack and attack early, managing to hold off the French and even out the score to one a piece. In an exhilarating final ride, the Brits gave it everything they had and it paid off as they crossed the finish line first to earn themselves a bronze medal.
Women's Tandem Sprint
After losing their respective semi-finals to Australia and Belgium, women's tandem partnerships Libby Clegg with Georgia Holt and Sophie Unwin with Jenny Holl found themselves competing against each other for the bronze medal.
In a nail-biting race to bronze, Clegg and Holt were pipped to race one, needing to win race two to stay in contention of a medal. In race two, Unwin and Holl attacked with 175m to go and managed to hold off their fellow Brits to take their second bronze medal of the championships.
Scratch Race
The men's C2 scratch race started well for Ryan Taylor, making a move 20 laps in saw him lead with a solo effort for three laps. Unfortunately, Taylor missed an opportunity to take a move alongside the French and Australian, who eventually took a lap. Disaster struck with 25 laps to go when Taylor suffered a mechanical and was unable to re-join the race, ending his medal chances.
Racing in the joint C1 and C2 scratch race, Katie Toft continued the strong performances she's shown throughout the week, taking first place in her category as well as the omnium world title.
Omnium
Fin Graham took the men's C3 omnium world title in straight event wins, not dropping a single point across the competition. Added to his individual scratch race and pursuit titles, Graham goes home with a total of three rainbow jerseys; a phenomenal track world championships performance.

Full omnium results:
Fin Graham men's C3 – First place (final standings)
Katie Toft women's C1 – First place (final standings)
Crystal Lane-Wright women's C5 – Fourth place (final standings)
Blaine Hunt men's C5 – Fifth place (final standings)
Morgan Newberry women's C5 – Eighth place (final standings)
Will Bjergfelt men's C5 – 11th place (final standings)
Ryan Taylor men's C2 – DNF (final standings)
Total medals won by the Great Britain Cycling Team:
Gold, Kadeena Cox, women's C4, 500m TT
Gold, Fin Graham, men's C3 15km scratch race
Gold, James Ball piloted by Steffan Lloyd, Libby Clegg piloted by Georgia Holt, tandem team sprint
Gold, Katie Toft, women's C1 500m TT
Gold, Fin Graham, men's C3 individual pursuit
Gold, Neil Fachie and Matt Rotherham, men's tandem 1km TT
Silver, James Ball and Steffan Lloyd, men's tandem 1km TT
Gold, Sam Ruddock, men's C1 1km time trial
Gold, Sarah Storey, women's C5 individual pursuit
Gold, Sophie Unwin and Jenny Holl, women's tandem pursuit
Silver, Lizzi Jordan and Corrine Hall, women's tandem pursuit
Gold, Katie Toft, women's C1 individual pursuit
Bronze, Sophie Unwin piloted by Jenny Holl, women's 1km TT
Silver, Crystal Lane-Wright, women's C5 10km scratch race
Bronze, Ryan Taylor, men's C2 individual pursuit
Gold, Jaco Van Gass, men's C3 1km TT
Silver, Fin Graham, men's C3 1km TT
Gold, Blaine Hunt, men's C5 1km TT
Gold, Jody Cundy, men's C4 1km TT
Gold – Steve Bate and Chris Latham, men's tandem pursuit
Gold – Daphne Schrager, women's C3 individual pursuit
Gold – Fin Graham, men's C3 omnium
Gold, Katie Toft – women's C3 omnium
Gold, Katie Toft – women's C3 scratch
Gold, Kadeena Cox, Jody Cundy, Jaco Van Gass, C1-5 mixed team sprint
Bronze, Sophie Unwin and Jenny Holl, women's tandem sprint
Gold, Neil Fachie piloted by Matt Rotherham, men's tandem sprint
Bronze, James Ball and Steffan Lloyd, men's tandem sprint