Glencoe's reputation for being one of the most brutal downhill tracks in the UK remains intact after this year's National Downhill Championships, where Greg Williamson and Stacey Fisher performed brilliantly to take home the coveted elite national champions' jerseys.
The Scottish track is known for its rough rock gardens along with its steep and exposed sections. However, this year the SDA and the team at Glencoe did a lot of work to resurface most of the track and did some extra work to all of its jumps. This made for a true test for all the riders vying for the jerseys.
The weather, however, didn't quite play ball after one of the hottest weeks on record. The weekend of the championships saw wall-to-wall rain, with some extreme rain on race day. Fortunately, the overnight winds from the practice day did not endure.
The junior women's race was won by Bethany McCully from Black Isle MTB club. Bethany showed just how much the experience she's gained racing at World Cup level has really benefited her riding and she deservedly took the win, with Ellen Berry in second, and Nina-Yves Cameron from West Highland Wheelers in third.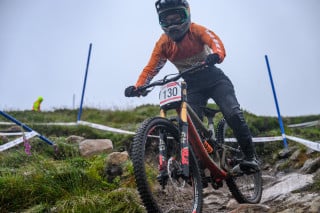 The junior men's race saw the worst weather of the day, but this didn't stop these young riders from giving it their all. William Brodie came out on top, taking his first national championship title by just 0.9 seconds over Lucas Thurlow, with Freddie Davis in third.
Up next it was the senior women taking to the hill. It was no surprise to see Stacey Fisher at the top of the podium, taking a second national championships win, again showing the form she has displayed at the World Cup this year. In second place was Scott Sports UK's Jess Stone, followed by Hunt Bike Wheels Kerry Wilson in third.
The senior men's race was the final race of the day and lived up to all the hype with several World Cup riders in attendance. It was always going to be tight at the top, but the first three riders were split by just over a second. In the end it was Scotsman Greg Williamson who took his third national championships win, narrowly edging out Adam Bryton in a second and Taylor Vernon in third.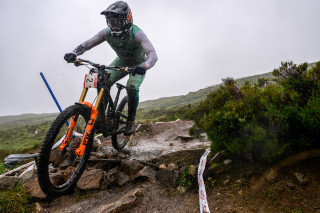 It was an excellent weekend of racing and as fantastic as the riders were, the final word has to go to the medics, marshals and Commissaires who kept the riders safe throughout a torrid weekend of weather.