Cam Orr and Isla Short took incredible elite wins at Woody's Bike Park in Round 5 of the National Cross-Country Series at the weekend, while Charlie Aldridge and Elena McGorum won the overall series.
Orr (Team Inspired) took the elite male win in Woody's Bike Park, just ahead of Aldridge (Scott), while Cameron Mason (Trinity) edged out Joe Blackmore (Team Inspired) for third and fourth. Aldridge's second was enough to win him the overall series after a fantastic run of results, while Mason took second, and Rory McGuire (Leslie Bike Shop) third.
Short won the elite female category convincingly, with Anna Flynn (Spectra Wiggle) pinching second ahead of McGorum (Peebles CC), who took the overall series win. Jane Barr (Velocity 44) finished second in the overall series and Jo Thom (Torq) came third in a strong women's field.
In the male experts, Sam Howes (Sleaford Wheelers) won a close battle over Spencer Davies (CC AbergavennyJPSignsPrint), and it was another narrow call between third placed Ross Thorley (Manx Viking) and Kieran Wynne-Cattanach (Team Lifting Gear Products). Overall, Flynn Gregory (Derby Mercury) won the series with Howes taking second and Sam Sayers in third.
Grace Whitehouse (WarVena) took an easy victory in the women's experts ahead of Christine Robson (Londres VC). Christina Wiejak (Saint Piran) was crowned the overall series winner, but was away racing in the National Road Championships, where she showed off her strength in an early solo breakaway. Grace Whitehouse took second overall and Sofia Christiansen was in third.
In the men's sport event, William Gell was crowned the victor, beating Dan Clark (Hunt Wheels) and Jay Cracknell (Caesarean). Overall, the series went to Marco Ruggeri (Rapha) with Sam Stephenson (Lakes RC) in second and Cracknell in third.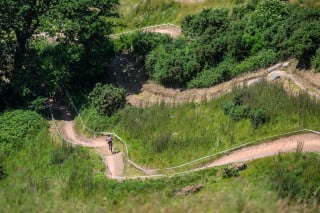 Ella Maclean-Howell (Tofauti Everyone Active) took a commanding win in the women's juniors ahead of teammate Libby Bell and Emily Carrick-Anderson (T-Mo Racing). Phoebe Roche (WXC) and Kacey Eyeington (Derwentside) made up the podium. Overall, Carrick-Anderson won the series, Roche took second, and Eyeington was third.
Max Greensill (Hope) won for a third time this season in the junior males category, while Huw Buck Jones (Backstedt) was second and Jack Southcott (Rotor) finished third. Greensill took the overall series win after his dominant performances, and it was his teammate Nathan Smith in second, while Rueben Oakley (Rotor) finished third.
Daisy Taylor (Edinburgh RC) dominated the youth female race, as she has done all season, and took the win ahead of Aine Doherty (Cycling Ulster) in second – her best result of the series. Tulsi Bakrania (WXC) just nudged ahead of Evie Strachan (RR23) for third. Taylor took the series victory, with Bethany-Ann Jackson (WXC) in second and Florence Greenhalgh (Pine Sport) in third.
The youth male category has been extremely competitive and close all season and coming into the final round, the overall winner could have been one of five riders. Max Standen (Southfork Racing) took the race win on the day ahead of Oliver Murphy (Rotor) and Innes McDonald (Edinburgh RC), with all three taking their best results of the season. But it wasn't enough to be the overall series victor, with Ben Coppola (Four4th) taking the overall win, Alfie Davies (The Bulls) in second and Nathaniel Henderson (Hetton Hawks) in third.
A sprint finish in the juvenile females saw Aelwen Davies (RR23) take the victory ahead of Daisy Wilkinson (Edinburgh RC), while Orla White (Dartmouth VeloCare) finished third. Zoe Roche (WXC) took the series win with Davies in second and Wilkinson in third.
In the men's equivalent, Leon Atkins (Welwyn Wheelers) made it four wins in a row, while Arthur Limb (Matlock CC) and George Cooper (Sherwood Pines) took their best results of the season in second and third. Atkins secured the overall series win, while Curtis McKee (Scott Quanta) finished second and Daniel Ward (Cero - Cycle Division RT) in third.
Ceris Styler (Backstedt) took another win in the women's vet race, with Karen Heppenstall taking second and the overall series win, while Ruth Taylor (Element) finished third in the race to take second overall. Isla Rowntree (Islabikes) dusted off the racing kit to take the grand vets win, while Lindsay Newman (Pedal Power Loughborough) finished second – enough for her to take the overall win – and Christina Peyton came third. Carolyn Spiers won both the super vet race and the overall series.
In the men's vet race, Adrian Lansley (Pedalon) claimed the victory, with Philip Holwell (Peak Road Club) in second and Marc Chamberlain (Hunt Bike Wheels) third, giving him the overall title. Nick Craig (Scott) continued his domination of the series with the grand vet's race and overall win, while Steve Calland (Team TMC – Strada Wheels) took another second place and David King-Smith finished third. With Grant Johnson not starting in the super vets, he still managed to claim the overall series win, but it was Bruce Rollinson (All Terrain) who won on the day with his first win of the season. Donald MacGregor (Dream Cycling) finished second and Pete Harris (Pearce Cycles RT) came third.


Race Photos