Former European BMX Champion, Kyle Evans, has today been announced as the new Junior Academy BMX Coach for the Great Britain Cycling Team, returning to the national team setup following his retirement in October 2020 to develop the nation's brightest BMX talent.
In a successful nine-year career representing the Great Britain Cycling Team, Evans first joined the academy in 2011, at the age of 18. His potential saw him named as reserve to Liam Phillips at London 2012 just eight months after joining the programme. Evans delivered consistently impressive performances in European and World Cups, before standing on the podium for the first time with a silver medal on his home track at the National Cycling Centre in Manchester at the 2016 UCI BMX Supercross World Cup.
Evans competed for Team GB at Rio 2016, exiting the competition at quarter-finals stage, before two years later claiming his first international title on a memorable day at the European Championships in Glasgow. A series of flawless performances through the rounds saw him take the gold medal ahead of young team-mate, Kye Whyte.
In his new coaching capacity – which is a new role within the team's coaching setup - Evans will be responsible for the team's first-ever junior BMX pathway programme. This new programme will identify and nurture young talent, working with riders aged 14-18, with the aim of preparing them for selection onto the elite programme and following in the footsteps of the riders that achieved incredible breakthrough successes at Tokyo 2020.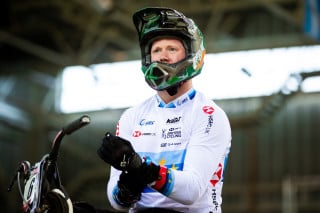 Great Britain Cycling Team Performance Director, Stephen Park CBE, said:
"Having risen through the ranks to become European Champion himself, Kyle brings to this role a unique understanding of not only what riders need to develop and perform to the best of their ability, but what our programme itself needs to look like to give today's young riders the tools and ability to do so.
"A new performance pathway is an incredibly important step for our BMX programme and will help bridge the gaps between the grassroots, our talent programmes and our elite podium programme. The BMX discipline saw great Olympic success in Tokyo and the addition of a junior programme will only strengthen our medal-winning potential as we head towards Paris 2024 and beyond."
Since stepping away from the Great Britain Cycling Team, Kyle has been heavily involved with providing deprived areas of the UK with facilities like BMX tracks, tarmac pump tracks and skateparks for all ages, abilities, and user groups to enjoy and develop their skills within the urban sports industry.
Alongside this, he held the role of UCI BMX Technical Delegate for all major events, which focused on athlete safety within competition.
On his new role, Kyle Evans said:
"After my retirement in autumn 2020 I took some time away from elite sport which allowed me to look back on my career and experience other sides of the sport I love. This time was so beneficial to my own growth, both personally and professionally, and has allowed me to come back to the team with a different perspective. Having seen how the sport works from various angles, I feel I have the knowledge and skills to get the best out of those around me and the sport itself.
"As Junior Academy BMX Coach, my role is to develop a programme which has a clear direction and equips aspiring athletes with the support, skills and confidence they need to move forward in their BMX careers. I can't wait to see what we achieve."
The performance pathway programme for BMX will start with a broad engagement of athletes, with an intention to narrow down in line with the usual academy selection schedules. Selection will be based on current abilities and future potential and will seek out riders who have the necessary technical, athletic and personal characteristics that are required to be a world class rider on the GBCT programme.