British Cycling has today announced the six riders who will represent the Great Britain Cycling Team in the UCI BMX Racing World Cup in Glasgow, which takes place on 28-29 May.
Reigning Olympic Champion, Beth Shriever has been selected to compete, and as current world and national champion will be looking to continue her sensational recent form in her first home international event since her historic performance at the Tokyo Games.
Following his silver medal at the Tokyo Games, Kye Whyte will lead the elite men's squad. Kye secured a breakthrough victory at the UCI BMX World Cup round in Manchester in 2019 and will be looking for more home success in Glasgow later this month.
Also included in the squad are Ross Cullen, who recently took third place in the second round of the UEC BMX European Cup in Verona, Paddy Sharrock and Quillan Isidore. Young rider Ryan Martin will compete in the under-23 category.
On competing on home turf, Beth Shriever said:

"This is my first big race since coming back from Tokyo and I'm super excited, I'm going to have to dig in. I've had a great winter of training, a great first part of the year racing, I'm really looking forward to it and hopefully I can bring something back for the crowds here in Britain.
"We haven't had a home World Cup in a good few years so make sure you get there. The stands will be packed, the atmosphere will be electric; you don't want to miss out."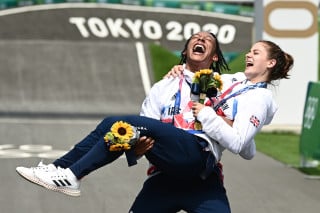 Kye Whyte added:
"I can't wait to race Glasgow. The first time I did race there was the European championships and I came second to my teammate Kyle Evans. That was my first ever medal at 18, the crowd was insane, and I hope we get the same crowd and the same type of people to come and support us because that's what we need. All we need now is for you guys to buy tickets, come support us and that would be a dream."
Great Britain Cycling Team Performance Director, Stephen Park CBE, said:
"Our BMX riders gave some of the Great Britain Cycling Team's stand-out performances at the Tokyo Games, with Kye bringing home our first-ever BMX Olympic medal and Beth winning our first Olympic Gold.
"It's incredibly exciting to see how they have continued to build on this success, and we're hoping to see some more strong performances from them in what is always a special home World Cup environment.
"As a whole team, our BMX riders continue to develop and are showing great potential to consistently deliver real results at an international level this year. As well as being great individual athletes, they provide incredible support to each other in training and work tirelessly to increase the visibility of BMX racing, encouraging the next generation of riders. As a group they are fantastic ambassadors for the sport and for the Great Britain Cycling Team too."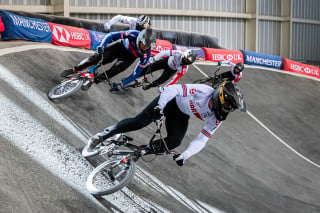 The UCI BMX Racing World Cup will take place at Glasgow BMX Centre on Saturday 28 and Sunday 29 May, and you can purchase tickets here, priced at £15 for adults and £10 for kids.
Great Britain Cycling Team squad for the UCI BMX Racing World Cup, Glasgow:
Elite Men

Kye Whyte
Quillan Isidore
Paddy Sharrock
Ross Cullen

Elite Women
Beth Shriever
Under-23 Men
Ryan Martin