Next-level brain protection that's better by design.
Lazer helmets with KinetiCore technology are the first to include built-in rotational-impact protection. The new impact technology incorporates unique Controlled Crumple Zones.
As KinetiCore is built-in and fully integrated within the helmet's core, it results in less weight and more ventilation. The launch of KinetiCore technology is the result of over 10 years of research, testing and refinement by the Lazer team.
Change the way you think about brain-protection technology with KinetiCore: Lazer's all-new built-in helmet technology that provides improved protection for cyclists and increased comfort at a lighter weight, boosting riders' protection, confidence and enjoyment in the saddle.
KinetiCore is unlike any other helmet technology in existence. Lazer worked for over a decade to create a new technology that completely changes the current way of thinking about brain protection. The result is KinetiCore: advanced protection technology that's built into the helmet rather than added on.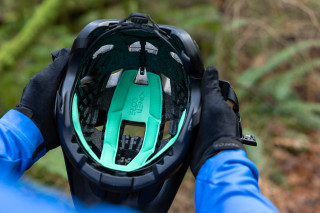 The evolution of brain protection
Lazer has been designing protective gear since 1919. The company also has an influential history with pro riders – so influential, in fact, that Lazer was responsible for pushing the pro peloton to wear proper head protection in the days before it was mandatory.
Around 10 years ago, as awareness of rotational-impact injuries began to advance and other technologies developed, Lazer started developing its own innovative proprietary (rotational)-impact technology that was built into the helmet rather than added on as an extra. To do that, the design team had to tear up helmet design and start completely from scratch.
They began by assessing how different types of impact affect cyclists. Using advanced simulations to examine what happens to riders' skulls and brains in the event of direct and rotational impacts, they created thousands of templates in their quest for the new tech.
The breakthrough moment came when the team examined cars' crumple zones. This inspired them to build cone-like crumple zones on the inside of the helmet, designed to break under impact and dissipate energy away from the cyclist's skull.
The result is KinetiCore's Controlled Crumple Zones – a unique set of EPS foam blocks built into the helmet designed to buckle in the event of direct and rotational impact, redirecting energy away from the brain.
Find out more here.