An "exciting new era" of major cycling events in Britain is well under way, according to British Cycling Commercial Director Darren Henry, with rounds three and four of the UCI Track Champions League (3 – 4 December; Lee Valley VeloPark, London) close to selling out to mark the beginning of a thrilling sequence of headline major events on home soil for years to come.
British rider Katie Archibald, whose performances during rounds one and two in Mallorca (6 November) and Panevėžys, Lithuania (27 November) saw her extend her lead in the women's endurance league is relishing the unique experience of being a competitor as a well as a spectator in the years to come.
The Scot said: "I thought I knew what to expect going into the Track Champions League, but, if I'm honest – from the buzz of the velodrome, the talent I was up against – everything exceeded my expectations. I'm really looking forward to seeing what I can do in London.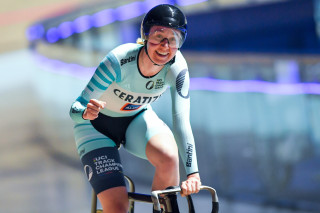 "I'm so privileged to be able to do something I love and race my bike, and with so many events on coming up – not only for the trackies like me – I'd absolutely encourage anyone to thinking about finding out what cycling is about to check it out for themselves. For any competition I'm not racing in, I will be!"
With tickets in high demand, British Cycling's Commercial Director, Darren Henry says British Cycling will continue to attract new audiences – who were no doubt captivated by groundbreaking success at the Tokyo Olympic and Paralympic Games with an ambitious programme of events.
He said: "With London so close to selling out, it feels as if the UCI Track Cycling League marks the beginning of an unforgettable time for cycling in the country. The ticket sales for London show that, if track cycling has a home, it's in Great Britain and fans in the UK can also look forward to the HSBC UK National Championships in Newport (28 – 30 January) and the Tissot UCI Track Nations Cup in Glasgow (21 – 24 April).
"There's definitely a place in the calendar for punchier, short-race formats like this to appeal to diehard spectators as well as new fans watching track cycling for the first time and I'm very proud that British Cycling has been able to play a leading role in bringing this new format to life.
"We're getting ready to host some of the biggest competitions in the cycling calendar - with the Tissot UCI Track Nations Cup in Glasgow and Commonwealth Games happening in spring and summer next year, before the UCI Cycling World Championships in 2023 and a potential Tour de France Grand Départ in a few years' time.
"All incredible events in their own right, it's so important that we will back this up by supporting the development of all our disciplines through our long-term plans and provide as many people as possible with the opportunities to take part or watch this great sport."
Although the Saturday session is now sold out, a few Friday tickets for the UCI Track Champions League London, are available for general purchase through Ticketmaster now.
Those not lucky enough to get tickets for London, can still get their fill of track cycling at the UCI Track Nations Cup in Glasgow through Ticketmaster (21 – 24 April).