One of the country's most vibrant and longstanding cyclo-cross leagues this year celebrates a pandemic-delayed 40th anniversary.
Since 1980 the Forme Notts & Derby Cyclo-cross League has welcomed thousands of riders, including some household names, to its start lines, and ahead of this weekend's fifth round in Derby's Markeaton Park, we caught up with organiser Dave Gretton to find out more.
While league events now attract hundreds of riders, the picture in the region hasn't always been quite so rosy. Back in the late-1970s Dave and others founds themselves travelling long distances to get a ride, such was the dearth of cross events in the East Midlands.
Keen to rectify the situation for themselves and others, Dave pulled together with friends and local clubs, and as a new decade dawned the formative Notts and Derby league was soon born.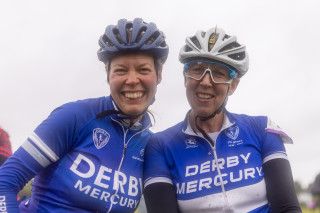 "Back in the day in 1980, in the East Midlands region there weren't any cyclo-cross events. We would have to go to the West Midlands, or Yorkshire even, if we wanted to ride a cyclo-cross event.
"We realised that we weren't giving the East Midlands riders the opportunity at that point in time, so the local clubs got together and said we need to put some events on in our area. The type of event we wanted to put on was on a Saturday, sort of as a warm-up for the more serious events on a Sunday.
"The national trophies were on a Sunday, national championships on a Sunday, and we thought there was a place for supplementary events on a Saturday to help riders get experience and a workout.
"The numbers were relatively small – 30 to 40 riders – and almost petered out in the early to mid-1980s. Only because we persevered with the events did we keep the momentum going, until in the late-1980s the numbers started to pick up.
"The big momentum came when mountain bikes became popular, which I guess was at the end of the 1980s, and people who'd bought mountain bikes realised they could compete in cyclo-cross races on them. The numbers started rising rapidly after that time and have continued to do so."
While numbers have grown across all categories in recent years, the accessible appeal of cross is highlighted in the particular increases seen in the female, younger and veteran age categories – something which Dave is especially proud of.
"Things have changed over time and certainly if I look to now, we had 350 competitors in the last round, 100 of whom were under-12, which to me is the most marvellous thing of all. When we started in 1980 it was exclusively male, senior riders.
"Looking at the demographic of our last event we had 100 riders in the under-12s and under-9s, quite a good turnout in the under-14s and a big turnout in the veterans, who seem to be the people who've come through from those early days and are still at it now!
"I'm sure they see the success of British Cycling over the past 20 years, on the television, in the press. I think younger riders come in and want to have the chance to do it, and the more opportunities there are for them to do it they'll lap them up. It's now become the norm that British riders are up there with the best in the world all the time.
"Previously it was very unusual to see a woman riding over the first 20 or 30 years of the league, and we now run a separate event at the league for women which this year had as many riders competing as the men's senior league."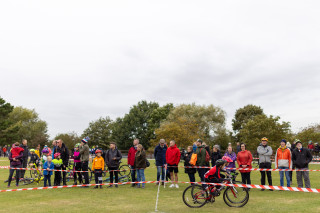 The growth in rider numbers has steadily intensified the battle for podium places, and as a result the league has become a fertile breeding ground for a growing band of renowned cross specialists and international road riders.
"Tim Gould was a world championships representative in the early days, from the Beeston Road Club we saw James Taylor come through, and they wanted the extra event to keep up their levels. Nikki Harris [now Brammeier] came through the league in the first place and became an international professional cyclo-cross rider.
"As well as that we've had winners like Nicky Craig, who has been a top cyclo-cross rider for as long as I can remember, and as well as that I remember very well a race we had for the under-16s one year where the leading group included some successful local guys along with Ian Stannard, Ben Swift and Adam Blythe, who were young riders coming up then!"
With four decades of organising races under his belt, this season will be Dave's last with the Notts & Derby Cyclo-cross League. While it is hoped that new volunteers will be found to take the reins and continue the league's proud tradition, Dave is proud of the work it has done to lay the foundations for other leagues in the area, and still sees a bright future for the discipline in the years to come. He's also keen to highlight the joys of volunteering to a new generation of riders who might not even have considered how they can get involved in supporting the sport.
"At some point you obviously have to stand aside, and I know that there are other people standing aside as well, and there are now fewer events making up the league. The Notts and Derby League was unique at the time, 40 years ago, but it has also spawned other leagues as well like in Leicestershire, West Midlands and Lincolnshire, so the riders have more choice now of leagues and events than they ever would have 40 years ago.
"In a way, that's diluted the need for us to have so many events in our league, so it's not a problem as they can go and find a race somewhere else. But the continued worry is whether there are enough volunteers to continue doing these roles. There are plenty of people who have come into cycling, but you don't come into cycling necessarily to organise events – you come into it to ride bikes and enjoy yourself.
"The league is having trouble finding people to fill jobs. I'm retiring as an organiser this year, and it's not clear whether anybody will take up the reins, as my group of volunteers have to some extent grown old with me. But my opinion is that if you create a gap, by moving out of the way, then it's open for somebody to fill it. It's a change which gives somebody else an opportunity."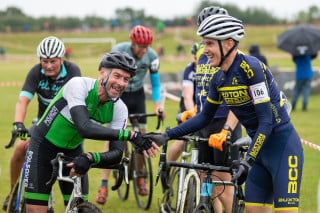 And lastly of all, will he miss it?
"Yes, most definitely. At the last round, on the day of the event it was great to see everybody there, and everybody who was there, including the volunteers and the riders, were having a great time. This is what summed it up for me: I saw one lady who'd ridden in the event at the coffee stall, and she looked one stage away from hypothermia, shivering and shaking, and I asked her if she was all right. She said "I'm really cold and wet, but that was the best fun I've had in ages". And I thought, you've just made my day."
Upcoming events
Find more events near you here, and find out more about volunteering with British Cycling here.