Great Britain secured their first medals of the 2021 UCI Road World Championships in Flanders, Belgium thanks to Zoe Backstedt winning silver in the junior women's individual time trial and Josh Tarling taking silver in the junior men's individual time trial.
Backstedt was occupying the hot seat and the gold medal position right until the end, but it would be the final rider across the finish line, Alena Ivanchenko (Russia) who would take the gold medal and rainbow jersey home in a time of 25 minutes 05.49 seconds.
The British rider's time was only eclipsed by ten seconds, the narrowest of margins to lose out on. Both riders would be the only two to hold an average time of over 46 kilometres an hour over the world championships course.
Also representing Great Britain, Maddie Leech would go on to finish fifth overall. Speaking to reporters on seeing her teammate collect her silver medal she said, "I wasn't surprised to be honest I expected her to do really well but she smashed it more than I was expecting, so I'm really happy for her she did really well!"
Junior Women's Individual Time Trial
A total of 60 riders would contest the junior women's individual time trial, amongst them were two exciting young prospects in Madelaine Leech and Zoe Backstedt. Both were part of the world record setting team pursuit quartet in August at the 2021 UEC Track Junior and U23 European Championships.
Having left Apeldoorn at those very championships as European champions, their prowess against the clock was to be tested this time over the 19.3 kilometres from Knokke-Heist to Bruges.
Maddie Leech was first up in the 'GBR' adorned kit of the Great Britain Cycling Team and had herself a television camera bike for company given the blistering speed she set off with.
Leech was 35 seconds faster than any other rider at the intermediate time split and would be 1 minute 17.31 seconds quicker than any other rider before her at the finish line to finish in the provisional gold medal position with an average speed of 43.68 kilometres per hour and total of 26 minutes 32.20 seconds.
Chasing her down however was Anna van der Meiden (Netherlands), and at the very first intermediate split, van der Meiden was just 8 hundredths (0.08) of a second quicker than Leech.
The timings could not be separated all the way to line as Leech watched on from the hot seat, the Dutch rider raced towards the line and would steal the gold medal position from the British rider by just one second.
With some of the top seeded riders still to go, the British Junior National Champion, Zoe Backstedt was up next and produced a green split on the course going quicker by over a minute to van der Meiden.
At the finish line Backstedt maintained her pace and smashed every other time out the park, knocking her Dutch rival off the hot seat – the same seat Backstedt would occupy for an agonising ten minutes after to find out if she would become World Champion.
Alena Ivanchenko (Russia) was the only rider remaining on the course who could beat Backstedt and with the Russian going two seconds quicker at the first split, the question was can she still hold on for gold?
Unfortunately, when it came down to the line the answer was an agonising no as the Russian rider won the gold medal by ten seconds, but a valiant silver medal remained for the young-Brit who has a bright future ahead. Teammate Maddie Leech would go on to finish fifth overall.
Results
Alena Ivanchenko (Russia) 25:05.49
Zoe Backstedt (Great Britain) +10.64
Antonia Niedermaier (Germany) +25.32
----
5. Madelaine Leech (Great Britain) +1.26.71
Junior Men's Individual Time Trial
The exciting British duo of Joshua Tarling and Finlay Pickering would represent Great Britain in the junior men's individual time trial, with Tarling being the second of over 80 riders taking part to start.
An exemplary ride from the 17-year-old saw him charge into the lead early on, nearly catching his minute man and first rider on course Jonathan Vervenne (Belgium), finishing just nine seconds behind him in a time of 25 minutes 57.62 seconds.
Having got comfortable in the hot seat, it was Gustav Wang (Denmark) that would cross the line nearly 20 minutes after Tarling and take the top spot, pushing Tarling into a provisional silver medal position 20.2 seconds back.
It was from here that the Welsh rider could watch teammate, junior national time trial champion Finlay Pickering take on the extended 22.3-kilometre course – an extra three kilometres added on from the morning's junior women's race.
A bold start from Pickering holding nothing back, the young rider trying to use every inch of the road would unfortunately become his undoing as he carried too much speed into one particular corner, took a tumble and wedged himself awkwardly between the metal barriers.
The whole thing seemed to happen in slow motion, and a count from crashing until he got going again estimated a total loss of 30 seconds to his overall time.
Pickering having dusted off his demons and found his rhythm again powered on to the finish line, crossing it in provisional sixth place with a time of 26 minutes 30.2 seconds,52.78 seconds behind Wang – he would finish eighth in the final classification.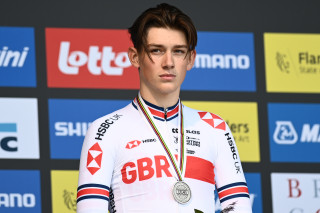 Meanwhile, a glance back at the hot seat still showed Tarling in second position, however home-favourite and European champion, Alec Segaert (Belgium) was on course, and he had just gone through the intermediate split four seconds slower than Tarling.
When it came down to it a final surge for Saegart was only good enough for bronze as Tarling held on to his silver medal by nine seconds.
Results
Gustav Wang (Denmark) 36:05.28
Josh Tarling (Great Britain) +20.20
Alec Segaert (Belgium) +29.48
----
8. Finlay Pickering (Great Britain) +52.78