The Great Britain Cycling Team produced two top-ten finishes at the 2021 UCI Road World Championships on Monday, as Ethan Vernon and Joscelin Lowden mixed it amongst the best in the world.
Vernon was first in action earlier in the day during the U23 men's individual time trial where he faced tough competition going on to finish seventh, under 45 seconds behind eventual winner Johan Price Pejtersen (Denmark) - the top ten riders would all finish within a minute of Pejtersen.
In the elite women's individual time trial both Joscelin Lowden and Pfieffer Georgi represented Great Britain with two fantastic performances, Lowden finishing in eighth amongst some of the biggest names in women's cycling.
With no U23 women's race, 20-year-old Georgi rode in the elite women's category giving a brilliant account of herself to finish 25th, gaining vital experience for the future having just announced her two-year contract extension with Team DSM.
U23 Men's Individual Time Trial
Ethan Vernon was the only competitor for Great Britain in the U23 men's individual time trial amongst a total of 68 riders from around the world. Vernon had over an hour to watch on as 54 riders would take to the course before him from Knokke-Heist to Bruges, a total of 30.3 kilometres.
If the 21-year-old was trying to settle his nerves, watching Victor Alejandro Ocampo Giraldo (Columbia) crash at the very first corner from his seat on the starting ramp most likely didn't help.
Once on his way, Vernon made sure he navigated the same corner without issue, worked his way up the gears and powered on towards Bruges – the time to beat, 34 minutes 39.99 seconds by Lucas Plapp (Australia).
Riding the new Hope HB.TT prototype bike, taking inspiration from the Hope x Lotus HB.T – the track bike ridden by Team GB in Tokyo at the 2021 Olympic Games – Vernon was in good hands and smashed his way through both intermediate splits in fourth place on the road, 7.27 seconds back at split one and 11.6 seconds back at split two with 9.5 kilometres to go.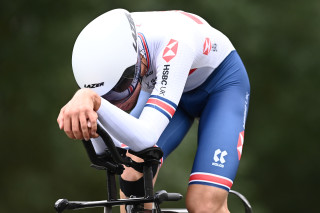 A valiant effort in the final kilometres meant Vernon limited his losses to just another 30 seconds and finished a provisional third on the line, 43.78 seconds behind Plapp.
A flying Florian Vermeersch (Belgium) finished shortly behind Vernon, knocking him off the hot seat with the Belgian securing a top three finish just one second behind Plapp. The eventual winner and U23 individual time trial World Champion would be Johan Price Pejtersen (Denmark) in a time of 34 minutes 29.75 seconds.
Soeren Waerenskjold (Norway), Mick Van Dijke and Daan Hoole (both Netherlands) would all finish ahead of Vernon who secured seventh place overall.
Results
Johan Price Pejtersen (Denmark) 34:29.75
Lucas Plapp (Australia) +10.24
Florian Vermeersch (Belgium) +11.39
----
7. Ethan Hayter (Great Britain) +43.78
Elite Women's Individual Time Trial
20-year-old Pfeiffer Georgi (Team DSM) was one of the first riders down the start ramp in the elite women's individual time-trial. On the road just ahead of her, Georgi had a final time of 38 minutes 04.92 seconds by Riejanne Markus (Netherlands) to chase.
The young-Brit put on a fantastic display crossing the line at the first and second intermediate split in second place and held on to that position provisionally on the finish line, 1 minute 18.99 seconds behind Markus.
Georgi's spell on the hot seat came to end shortly after however after Nathalie Eklund (Sweden) and Karolina Karasiewicz (Poland) crossed the line to finish second and third provisionally.
It wasn't long after that, Joscelin Lowden (Drops-Le Col) got underway as the second British rider to take on the course – the same 30.3-kilometre course as the U23 men.
As she made her way to the first intermediate split, the current women's European time trial champion, and 2020 bronze medallist, Ellen Van Dijk (Netherlands) made everyone sit up and take notice, producing a time of 36 minutes 05.28 seconds – nearly two minutes quicker than anyone else.
Step up Lowden, who went through the first- and second-time splits in a provisional second place with a 1 minute 09.04 second gap to Van Dijk; a tough ask it was to make up that time in the final 9.5km, but no doubt a podium place was in Lowden's thoughts.
When it came down to the finish line it looked like Lowden would finish fourth overall provisionally, but the 33-year-old held on in dramatic fashion to take third by one tenth of a second to Markus (Netherlands) in fourth, but two minutes back from Van Dijk in first.
It looked like it would be a long and arduous wait for Lowden as Amber Leone Neben (USA) was quicker on the road and still to finish, but a strong final stint by Juliette Labous (France) would knock Lowden out the podium positions, and she would go on to finish eighth in the world as a host of riders tried and failed to beat the time set by Van Dijk.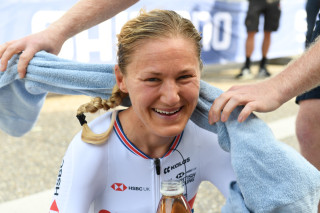 Results
Ellen Van Dijk (Netherlands) 36:05.28
Marlen Reusser (Switzerland) +10.29
Annemiek Van Vleuten (Netherlands) +24.02
----
8. Joscelin Lowden (Great Britain) +1:59.53
25. Pfeiffer Georgi (Great Britain) +3:18.63