Lewis Askey and Amira Mellor powered to dominant solo victories in the elite races at the first round of the HSBC UK | National Trophy Series in Derby.
Moorways Stadium, Derby, played host to returning competitors and enthusiastic crowds over the weekend, showcasing the finest cyclo-cross racing the country has to offer.
After a strong season, in which she claimed top 10 results in HSBC UK | National Road Series and HSBC UK | National Cross-country Series races, Amira Mellor took the win for Spectra Wiggle p/b Vitus with a fine solo ride.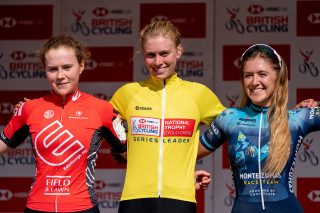 Mellor set the early pace alongside Anna Flynn (Edinburgh RC), while Abbie Manley (Montezuma's Race Team), Alderney Baker (Team Empella Cyclo-Cross.Com), Xan Crees (Spectra Wiggle p/b Vitus) and Ishbel Strathdee (VeloRevolution-WPCycles) chased behind.
Before halfway, Mellor accelerated away from Flynn and set off alone with a small lead. Meanwhile, the chase had splintered - Manley was distanced and holding onto third with Baker and Crees trailing 10 seconds back, while Strathdee had dropped out of the top five.
As the chasers traded blows, Mellor powered on alone to take the victory with enough time to sit up and enjoy the moment. Flynn came in 12 seconds later to take the U23 crown, while Manley rounded out the podium in third.
In the elite men's race, 20-year-old Lewis Askey was the pre-race favourite having recently secured his step up to the WorldTour on the road with Equipe Cycliste Groupama-FDJ. At the race with the aim of stopping Askey was a strong field, including five-time British Cyclo-cross Champion Ian Field (Spectra Wiggle p/b Vitus), the young Belgian, Arno van den Broeck (VDB Cycling Team), and former Cyclo-cross National Trophy round winner, Rory McGuire (Leslie Bike Shop‐Bikers Boutique).
Crashes marred the opening laps, with pile ups slowing the main field coming into the first corner and along the treeline halfway through the course. One faller was Toby Barnes (Schamel p/b Kloster Kitchen), who would pick himself up to finish fifth on the day.
Field, van den Broeck, and McGuire chased hard, but were unable to come close to the blistering pace set by Askey - he took a commanding lead into the final lap for a well-deserved victory. Arno van den Broeck managed to distance Field in the final laps, setting himself up for second while Field took third six seconds ahead of McGuire.
Juniors
Ella Maclean-Howell took an emphatic victory for Tofauti Everyone Active, winning the junior women's race by over 40 seconds. She had a 15 second gap by the end of lap one and the win never seemed in doubt, with Maclean-Howell setting the fastest time on all but one of the six laps.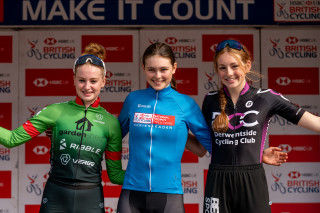 It briefly looked like a chase group of three would form, but the gaps opened quickly as Libby Bell (Garden Shed UK-Ribble-Verge Sport) pushed on to cement second place ahead of Elizabeth McKinnon (Derwentside CC) who came in a further 35 seconds back in third.
Tofauti Everyone Active continued their strong outing in the junior men's race, with Callum Laborde winning a hotly contested event ahead of Ben Askey (Backstedt Bike Performance RC) and Oliver Akers (Garden Shed UK-Ribble-Verge Sport).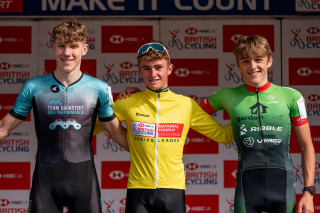 Akers started strongest, but he slipped back as the race went on, with Askey leapfrogging him into second place.
Laborde pushed on alone, pursued doggedly by Askey. The gap was never big enough to relax and a nail biting finish saw Laborde narrowly hold onto his lead by the end, beating Askey by a stone's throw, while Akers came home a further 22 seconds down.
Men's U16
Sebastian Grindley (Garden Shed UK-SCOTT) took a solo win ahead of Alfie Amey (DB Racing) and Peter Carpenter (Sutton Cycling Club) after leading from the first lap. Second and third were decided by the narrowest of margins, with Amey edging out Carpenter by half a second.
Photo credit: Mick Bown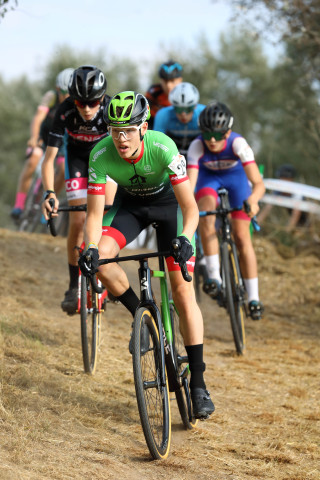 Men's U14
A strong start from Leon Atkins (Welwyn Wheelers CC) in the men's U14 race saw him take an early 30 second lead that he would hold to the finish line. George Cooper (Sherwood Pines Cycles Forme) took second, riding away from Harrison Evans (Sleaford Wheelers Cycling Club) close to the halfway point.
Photo credit: Mick Bown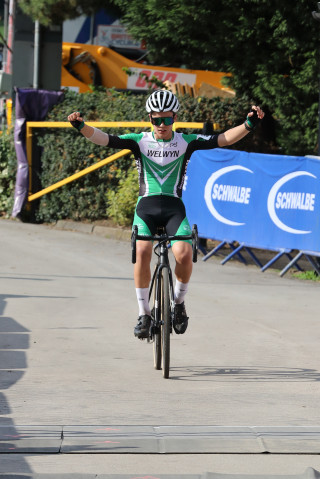 Women's U16
Cat Ferguson (Hope Factory Racing) came back from behind to take an incredible win in the women's U16 race. She overturned a 10 second deficit after lap one to win by almost 20 seconds ahead of Alice Colling (Shibden Cycling Club) and Aine Doherty (VC Glendale).
Photo credit: Mick Bown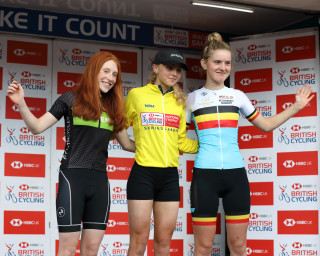 Women's U14
Anna Lloyd of VC Londres won a hard-fought race against Zoe Roche of WXC World Racing, only distancing her on the final lap to take the win in the women's U14 race, with Aelwen Davies (Velo Myrddin CC p/b Y Beic) coming in for third.
Photo credit: Mick Bown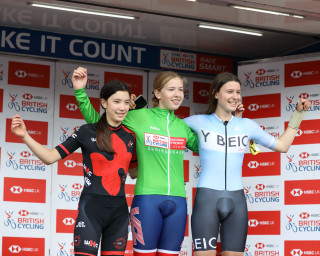 Women's Veterans 40-49
In the women's veteran 40-49 race, Ceris Styler won with an impressive two-minute margin ahead of Caroline Reuter (Dulwich Paragon CC). Alison Kinloch (PH‐MAS ‐ Paul Milnes Cycles) was a further 45 seconds back in third.
Women's Veterans 50-59
In the women's veteran 50-59 race, Catriona Ross won, finishng ahead of Helen Pattinson (Montezuma's Race Team). Isla Rowntree (Islabikes) completed the podium in third.
Women's Veterans 60+
In the women's veteran 60+ cateogry, Nicola Davies took the with Carolyn Speirs finsihing second for Kendal Cycle Club.
Men's Veterans 40-49
Paul Oldham (Hope Factory Racing) shook off fellow competitor, Adrian Lansley (Pedalon.co.uk), after 25 minutes of racing, extending his lead all the way to the line. Paul Lloyd (Banjo Cycles/Raceware) beat Tony Fawcett (SCOTT Racing) to third place after a last lap battle for the final step of the podium.
Men's Veterans 50-59
Nicholas Craig (SCOTT Racing) led from the gun to win by over a minute ahead of Mike Simpson (Beeline Bicycles RT) and Nicholas Whitley (Chester RC) in the men's 50-59 veteran race.
Photo credit: Mick Bown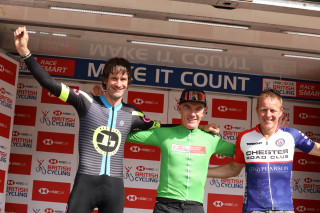 Men's Veterans 60+
Robin Delve (Mid Devon CC) showed calm consistency to be the only rider under 47 minutes in the men's 60+ veteran race. Michael Davies (Pedal Power Loughborough) edged out Peter Harris (Pearce Cycles RT) in the race for second and third.
Podiums
A full list of podium placings is below:
Elite men
1. Lewis Askey (Equipe Cycliste Groupama-FDJ)
2. Arno van den Broeck (VDB Cycling Team)
3. Ian Field (Spectra Wiggle p/b Vitus)
Elite women
1. Amira Mellor (Spectra Wiggle p/b Vitus)
2. Anna Flynn (Edinburgh RC)
3. Abbie Manley (Montezuma's Race Team)
Under-23 men
1. Lewis Askey (Equipe Cycliste Groupama-FDJ)
2. Arno van den Broeck (VDB Cycling Team)
3. Rory McGuire (Leslie Bike Shop‐Bikers Boutique)
Under-23 women
1. Anna Flynn (Edinburgh RC)
2. Abbie Manley (Montezuma's Race Team)
3. Alderney Baker (Team Empella Cyclo-Cross.Com)
Junior men
1. Callum Laborde (Tofauti Everyone Active)
2. Ben Askey (Backstedt Bike Performance RC)
3. Oliver Akers (Garden Shed UK-Ribble-Verge Sport)
Junior women
1. Ella Maclean-Howell (Tofauti Everyone Active)
2. Libby Bell (Garden Shed UK-Ribble-Verge Sport)
3. Elizabeth McKinnon (Derwentside CC)
Men's U16
1. Sebastian Grindley (Garden Shed UK-SCOTT)
2. Alfie Amey (DB Racing)
3. Peter Carpenter (Sutton Cycling Club)
Men's U14
1. Leon Atkins (Welwyn Wheelers CC)
2. George Cooper (Sherwood Pines Cycles Forme)
3. Harrison Evans (Sleaford Wheelers Cycling Club)
Women's U16
1. Cat Ferguson (Hope Factory Racing)
2. Alice Colling (Shibden Cycling Club)
3. Aine Doherty (VC Glendale)
Women's U14
1. Anna Lloyd (VC Londres)
2. Zoe Roche (WXC World Racing)
3. Aelwen Davies (Velo Myrddin CC p/b Y Beic)
Women's Veterans 40-49

1. Ceris Styler
2. Caroline Reuter (Dulwich Paragon CC)
3. Alison Kinloch (PH‐MAS ‐ Paul Milnes Cycles)
Women's Veterans 50-59
1. Catriona Ross - Bridport CC
2. Helen Pattinson - Montezuma's Race Team
3. Isla Rowntree - Islabikes
Women's Veterans 60+
1. Nicola Davies - www.cyclocrossrider.com
2. Carolyn Speirs - Kendal Cycle Club
Men's Veterans 40-49
1. Paul Oldham (Hope Factory Racing)
2. Adrian Lansley (Pedalon.co.uk)
3. Paul Lloyd (Banjo Cycles/Raceware)
Men's Veterans 50-59
1. Nicholas Craig (SCOTT Racing)
2. Mike Simpson (Beeline Bicycles RT)
3. Nicholas Whitley (Chester RC)
Men's Veterans 60+
1. Robin Delve (Mid Devon CC)
2. Michael Davies (Pedal Power Loughborough)
3. Peter Harris (Pearce Cycles RT)