Josh Whitehead (Team PB Performance) powered ahead of his breakaway companions at the Lancaster Grand Prix to win the opening round of the men's HSBC UK | National Road Series.
After his impressive victory on Sunday, Whitehead now leads the standings going into the second round of the Ryedale Grand Prix next weekend.
The 11-lap circuit was fast from the start. Toby Jarvis (Team PB Performance) and Jordan Peacock (Spirit Bontrager BSS Rotor) attempted an early breakaway but couldn't distance the peloton enough on the first lap.
The only KOM point came 10 kilometres into the 14.5 kilometre lap. It was hotly contested by the Wales Racing Academy, Ribble Weldtite Pro Cycling and Canyon DHB SunGod teams on the second ascent.
Joey Walker of Crimson Orientation Marketing RT and Canyon DHB SunGod's Ryan Christensen formed a two-man break on the fifth lap before being reeled back in. They were replaced at the head of the race by Jacob Scott (Canyon DHB SunGod), Toby Barnes (Crimson Orientation Marketing RT) and Michael Chadwick (Clancy Briggs Cycling Academy).
Chadwick was distanced and with three laps remaining, Scott and Barnes' gap had grown to 1'40" over their competitors while chasers had detached themselves from the peloton.
Eventually the decisive group comprised Scott and Whitehead alongside Crimson Orientation Marketing RT's Isaac Peatfield and Wheelbase CabTech Castelli's Finn Crockett.
On the kick up into Williamson Park, Whitehead was able to ride around Scott to raise his hands in victory. Scott finished second on the day and also received the King of the Mountains jersey as Crockett rounded off the podium.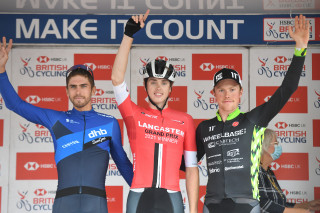 Speaking after the race, Whitehead said: "It was pretty hard from the go. Canyon [DHB SunGod] and Ribble [Weldtite Pro Cycling] were all pushing it at the front.
"With about 30 miles to go, I sensed a bit of a slow moment in the peloton so made an attack… it came down to four [riders] just attacking from the last climb.
"We came into Williamson Park with four of us, and I managed to come around them to get the win."
The second round of the men's HSBC UK | National Road Series continues with the Ryedale Grand Prix on Sunday the 22nd of August.