British Cycling is joining forces with the UK-wide parent-led movement Playing Out to empower mums and dads to take back control of their streets and give their children the chance to play out.
One in four parents (24%) whose child can ride a bike admit they actively discourage them from cycling because of concerns over safety from traffic, and a similar percentage are missing out on these essential life skills altogether – with almost one quarter of children (24%) unable to ride at all.*
Among parents whose children could not ride a bike, 88% said they would teach them if their local streets felt safer and 94% stated they would teach them if it was easier to get to safe places to cycle. The research highlights the negative impact that worries over traffic are having on children's freedom and ability to cycle and play outside with others. It also demonstrates the worrying effect this is having on parents, with almost half admitting they feel guilty for not teaching their child to ride a bike (48%).

Six-time Olympic champion Jason Kenny, who is supporting today's launch, said:
"By empowering communities to reclaim their local streets 29,000 children across the UK have already experienced the freedom of playing out on their own doorstep. Through the collaboration with Playing Out we want to spread this initiative far and wide, helping to set the next generation on a path to a happier, healthier and more independent life."
In a year that the UK is set to host one of the biggest sporting events of 2019 – the UCI Road World Championships – British Cycling wants to ensure that this once in a generation event gives every child in Britain the opportunity to ride a bike. In order to enable this, the organisation is offering a host of opportunities for children to discover the joys of cycling, including:
Rolling out its annual series of traffic free, city centre HSBC UK Let's Ride events across UK
Urging families to take advantage of its free learn to ride programme - HSBC UK Ready Set Ride
Funding the development/improvement of new/existing cycling facilities across England through the Places to Ride fund
Forming a game-changing collaboration with Playing Out in order to bring safe places to cycle to people's doorsteps
The UK wide, parent-led movement Playing Out aims to restore children's freedom to play out in the streets and spaces where they live, for their health and wellbeing. Both organisations are encouraging parents and residents to get together with neighbours to organise street play sessions on their local street or estate, or to urge their council to join the 63 local authorities that have already put supportive street play policies in place. This follows formal endorsement from the Department for Transport, which has encouraged all councils to put a supportive play streets policy in place.
Playing Out have already enabled over 950 communities to close their streets to traffic, giving children safe places on their doorstep to play out. Now, in a unique collaboration with British Cycling, the two organisations are working together to support parents.
Ingrid Skeels, Co-Director of Playing Out, said:
"The Playing Out idea started on one street in 2009 and has now spread to over 950 street communities across the UK, with around 14,500 adults taking action in some way. So many parents feel frustrated and sad not to be able to give their children the freedom to play out and we know that when given the opportunity, most children will choose to get outside and be active and sociable. Play streets are a great temporary way to bring that freedom back for children, whilst also building community between neighbours. They're also an important step towards the bigger, longer term freedom for children we want to see."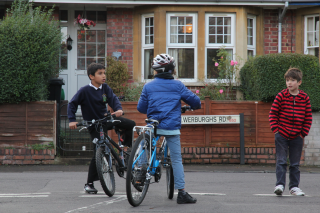 Anne Longfield, Children's Commissioner for England, said:
"Playing out used to be a feature of every child's day, a free and easy way for all children to be active and socialise with others in real life. But today's children are the least active generation ever, with only one in five getting the minimum physical activity needed to be healthy and well. The problem is actually worse after the summer holidays, and worse for poorer children. Busy roads and fewer safe communal spaces are a key part of the problem.
"It's going to take a whole government approach to bring back a culture and environment where all children can play out safely, something I am strongly calling for. But parents and residents across the UK taking action to organise play streets are helping to lead the way and I encourage councils and community organisations to get behind them."
You can find out more about British Cycling's legacy activity for the 2019 UCI Road World Championships at owntheride.org.uk
* All figures, unless otherwise stated, are from YouGov. Total sample size was 1,725 parents with children aged 4 to 18. Fieldwork was undertaken between 24th - 29th May 2019. The survey was carried out online. The figures have been weighted and are representative of all GB adults (aged 18+).
Images: Playing Out