British Cycling's flagship women's participation initiative, HSBC UK Breeze, has now welcomed over 250,000 riders, the governing body has announced.
Launched in June 2011, the initiative provides women across the country with the opportunity to get out on their bikes on free, women-only rides led by female volunteers – Breeze Champions – and is recognised as the biggest ever programme designed to get more women riding bikes.
HSBC UK Breeze is continuing to thrive as British Cycling steps up its bid to encourage one million more women to cycle by 2020, part of the organisation's attempts to narrow – and eventually close – the historic gender gap within the sport.
British Cycling's Chief Executive, Julie Harrington, said:
"HSBC UK Breeze continues to go from strength to strength, and for us to be celebrating the 250,000th participant as we mark the initiative's eighth birthday is fantastic. It's hard to over-estimate just how many women have been inspired to get back on their bikes – or even cycle for the first time – through the programme and our quite wonderful Breeze Champions.
"We know through our own research that many barriers still exist which prevent some women from taking up cycling, and we will continue to work relentlessly in this area. However, this milestone at grassroots level, coupled with fantastic elite showcases such as this week's OVO Energy Women's Tour, show the progress that is being made."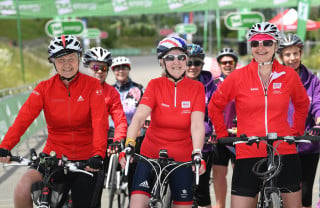 Luke Harper, HSBC UK's Head of the British Cycling partnership, added:
"We are delighted that HSBC UK Breeze has attracted 250,000 participants across the country – testament to the inspiring work done over the past eight years to make this the biggest programme for getting women on their bikes in the country.
"The initiative has had a fantastic response, and encouraging our colleagues, communities and customers to get out on their bikes, for free, is what our partnership with British Cycling is all about. There are so many benefits to riding a bike – from physical and mental health, to the environment."
While HSBC UK Breeze provides opportunities for women at grassroots level to get involved with cycling, British Cycling's women's strategy looks to narrow the gender gap at all levels of the sport. In recent years, the governing body has made significant strides towards gender parity in terms of prize money and events.
This is the case with the OVO Energy Women's Tour – the country's premier women-only event – which offers the same prize money structure as the men's equivalent, the OVO Energy Tour of Britain.
The 2019 edition of the OVO Energy Women's Tour is ongoing, and to mark HSBC UK Breeze's participation milestone, Breeze Champions from the West Midlands area will be leading out Thursday's stage 4, from Warwick's Market Square.
HSBC UK Breeze rides are completely free to attend, are suitable for any level of female cyclist, and take place all over the country. Further details are available here.