Whether the story is yours, or about someone who's inspired you, we all have a story to tell, and British Cycling want to hear yours to encourage more women to feel safe and confident in the saddle and inspired to ride!
You can be a seasoned pro, or maybe you haven't seen a saddle in years, we would love to hear your story.
Why?
We're going to create a video that shows the breadth of women's cycling in the UK. Your voice and/or image may be used in this video, which will then be used on the British Cycling website and social media channels to engage and inspire more women to cycle, helping to reach our aim of getting one million more women to ride, race, and be part of British Cycling by 2020.


How to Film
You don't need a fancy camera – just use your own phone, GoPro, or whatever you have to hand. As long as we can hear you if you're talking, that's fine!
If you're using your phone, turn it sideways so your film is the right size.
What you need to do: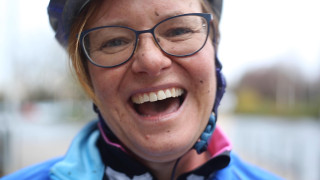 1. Say to camera:
'I am/My name is_____'
'I cycle/ride my bike because/for_______'
'I'm one in a million'
2. Show us what your cycling life is like
You could be talking to camera about yourself or interviewing your kids out on a ride. Here are just some of the things you could think about when capturing your story:
- On the commute
- On the trails
- Cycling with the kids
- Cycling with the dog
- Seeing stunning scenery
- Struggling through a training ride
- Lining up for your first race
- Achieving a personal goal
- Going over the finish line (first or last position, we want to see it!)
From the highest highs to the lowest lows, we're interested in everything. If you're stuck for something to say, try answering these questions to start off:
- Why did you start cycling?
- Who do you wish to inspire in the future?
- What are your struggles?
- Why is cycling important to you?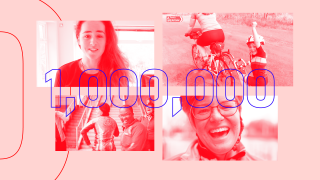 Where to send it
Upload to YouTube, make sure it's public, and then send the link to contentteam@britishcycling.org.uk
(How to: https://lifehacker.com/5804501/how-to-upload-videos-to-youtube-for-beginners)
Or go to www.wetransfer.co.uk and send the video from there, direct to contentteam@britishcycling.org.uk
Deadline for entries is Jan 2nd 2019
Thank you for supporting our upcoming women's cycling campaign!