Simon Yates's victory in the Vuelta a España means that for the first year in history each of cycling's Grand Tour jerseys are held by three riders from the same nation.
There were no British winners in any of the first 259 Grand Tours, yet following Yates's victory in Madrid this weekend a British rider has now been victorious in nine of the last 20.
This unprecedented achievement is the latest in a long line of successes since the introduction of lottery funding and formation of UK Sport in 1997. The funding has enabled British Cycling to establish a performance pathway for riders which has been instrumental in the success achieved by British riders from all disciplines at world championships, Olympic and Paralympic Games and Grand Tours.
Yates, who will now set his sights on the 2018 UCI Road World Championships in Innsbruck, Austria, later this month, said:
"It's astonishing really. Growing up I was so accustomed to seeing the French, Italian and Spanish riders lead the way, so for myself, Chris and Geraint to all win a Grand Tour in the same year just shows how far the sport has come in this country.
"It hasn't happened by accident and I'm so thankful to everybody who has been part of the journey, from all the volunteers at Bury Clarion to the support I received on the Great Britain Cycling Team pathway and of course everybody at Mitchelton–Scott. Without all of their support the last three weeks just wouldn't have been possible."
Like Yates, Geraint Thomas also traces his roots in the sport back to a British Cycling Go-Ride club, and the Tour de France winner hopes that their success at elite level will help to pave the way for the next generation of British riders.
"At the homecoming parade in Cardiff it was really humbling to see so many kids there on bikes and in their replica jerseys. Growing up cycling was still very much on the fringes and it's just amazing to see the real impact our recent success has had.
"If watching Simon, Froomey and myself can inspire a kid to get on a bike, whether they're racing or just playing out with their mates, that's a legacy that was can all be incredibly proud of."
Froome, who celebrated his fifth Grand Tour with victory in this year's Giro d'Italia, said:
"Simon has looked so strong over the last three weeks and it's great to see him take home the maillot rojo. It's been a perfect year for British riders and I'm already excited to see how the guys perform in Innsbruck at the worlds later this month."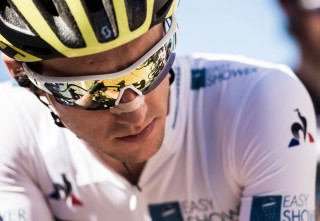 Figures from ITV show that their coverage of this year's Tour de France reached 9.5 million, up by 1.7 million on 2017. Highlights of the final stage broadcast on ITV 1 received the highest-ever audience volume of any Tour de France episode on ITV, as Geraint's victory in Paris captured the nation's imagination once again.
Commenting on the trio's success, British Cycling Chief Executive Julie Harrington said:
"We are incredibly fortunate in this country that, with the help of our funding partners UK Sport, the National Lottery, Sport England and HSBC UK we have been able to support the development of some of the world's best riders through our performance pathway.
"What's more, we know that their success has helped to inspire people up and down the country to get on their bikes, whether they want to race, get fit or just ride for fun. As Britain continues to battle with obesity, inactivity and the associated social costs, we believe that cycling has a huge role to play in helping to create a healthier and happier Britain, and victories like these are vital in encouraging people to take that first step."
Sports Minister Tracey Crouch said:
"Simon Yates's brilliant victory in the Vuelta is the latest success in a phenomenal year for British Cycling, following on from Froome winning the Giro d'Italia and Thomas the Tour De France. It is testament to the talent development programme of British Cycling, backed by National Lottery cash, that so many of our riders have become the world-leading cyclists that they are today. Their success is helping to encourage many more people get on their bikes and get active. I wish all our riders the best of luck in Innsbruck later this month."
The UCI Road World Championships take place in Innsbruck, Austria, from 23rd – 30th September. You can see the squad selected to represent the Great Britain Cycling Team here.