British Cycling has today responded to the Department for Transport's cycle safety review by renewing its call for a clear rule to give way when turning.
The national governing body launched its Turning the Corner campaign in December 2016, supported by The AA, RAC and a number of pedestrian groups, to bring the UK's junctions in line with those seen in countries such as Denmark, the Netherlands and Sweden.
Government statistics show that two thirds of all collisions and three quarters of all cycling collisions take place at junctions, while research by the University of Westminster found that regular cyclists have 25 near misses at junctions each year.
Over 27,000 people signed a petition in support of the campaign last year, with over 5,000 writing to their MP to ask them to back the petition in Parliament.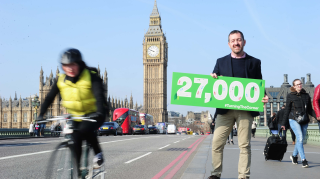 British Cycling policy adviser, Chris Boardman, said:
"The Department for Transport has been very clear that all recommendations in the cycle safety review must be evidence-based, lead to more and safer cycling and fit with the aims of the Cycling and Walking Investment Strategy. We very much welcome this approach.
"In Turning the Corner we believe we have a water-tight solution to our perilous junctions which is stacked with evidence, simple to implement, makes active travel safer and more attractive, and could cut traffic queues by almost half.
"British Cycling is clear that we cannot make cycling safer without significant investment in the spaces where people ride, and any suggestion that the answer lies in compulsory hi-vis and helmets is factually bereft nonsense."
The Department for Transport announced its review into cycle safety in September 2017, to consider whether a new offence equivalent to causing death by careless or dangerous driving should be introduced for cyclists, as well as suggestions for wider improvements in cycle safety.
In response to the possibility of a new law, British Cycling campaigns manager Martin Key said:
"British Cycling supports in principle any change to the justice system which leads to an improvement in safety for road users and the way that victims of road collisions and their families are treated.
"The trial of Charlie Alliston last year highlighted that there is a gap in the law concerning death caused by careless or dangerous cycling, and we recognise that the outdated law used to convict Alliston was not fit for purpose in the 21st century.
"However, the adoption of this new law alone will not lead to a marked improvement in the safety of our roads. Between 2011 and 2015 the average number of pedestrian fatalities was 365, of which just three involved a bicycle, and last year the total number of fatalities increased again to 448. We look forward to hearing how the government plans to combat this increase going forwards."
You can submit your response to the consultation through British Cycling's campaign page here.