The London Assembly's Transport Committee has called on the Mayor of London and Transport for London (TfL) to carry out research on how British Cycling's Turning the Corner initiative could work on the capital's streets, a move hailed by Chris Boardman as a victory for our members.
The Committee's Hostile Streets report outlines ways in which walking and cycling can be made more attractive to Londoners, thereby combating the city's congestion problem.
Among the report's ten recommendations is that TfL should consider further research on British Cycling's Turning the Corner campaign, which was launched by the governing body in late 2016 and calls for a change in the Highway Code, bringing in a rule to give way when turning, in order to create simpler, safer junctions for all road users.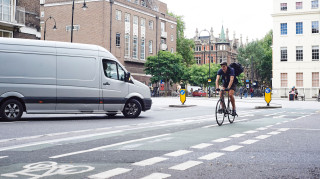 Over 27,000 people called on the Department for Transport to introduce the rule by signing a petition, which was handed into parliament by Boardman, British Cycling's policy advisor.
Reacting to the Hostile Streets report, Boardman said:
"It's hugely encouraging that the committee have seen the undoubted value in implementing Turning the Corner.
"This is a victory for British Cycling members and all those who backed a simple proposal which if adopted nationwide will make our streets safer for everyone.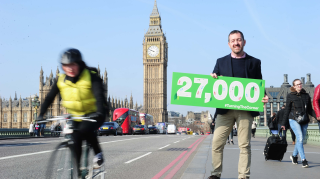 "This announcement represents great progress and is a vital step to improving conditions for all road users.
"Studies show that by following the rest of the world and introducing a give way when turning rule, our junctions can be made up to 40% more efficient, which would cut waiting times for drivers or bus users, and make our cities less congested.
"Prioritising walking and cycling, and making it a safer, more convenient and more attractive option will bring countless benefits to our cities.
"Less congestion, cleaner air and healthier, happier people are things that we would all like to see, and I'm delighted that London looks to be leading the way in terms of making these very achievable possibilities reality."
The Mayor of London, Sadiq Khan, has consistently reiterated his desire to prioritise cycling, walking and public transport in order to reduce London's congestion.
The Hostile Streets report emphasises the huge unmet potential in outer London: 5 million trips each day that could be walked or cycled are being made by motorised modes.
64 per cent of London's unmet potential for walking is in outer London, and 61 per cent of its unmet potential for cycling is in outer London.