It was a golden final day for the Great Britain Cycling Team at the UCI Manchester Para-cycling International, winning six gold and four silver medals to round off a successful weekend.
Louis Rolfe, Jon-Allan Butterworth and Jody Cundy kicked off the medal rush with gold in the team sprint in the morning session. The trio, riding together for the first time since their Rio success, qualified fastest in the morning to book their place in the final and a time of 50.409 saw them run out as comfortable winners.
In the men's tandem sprint competition James Ball and Matt Rotherham looked like the pair to beat throughout the day, progressing serenely through the competition to set up a final against team-mates Neil Fachie and Pete Mitchell who had had to work hard in their semi-final against Yorick Bos and Stephen de Vries.
Ball and Rotherham took the first heat of the final in impressive style but Fachie and Mitchell raised their game to level things up and then take the victory.
The pair were delighted to get the win in their first event together since the Paralympics.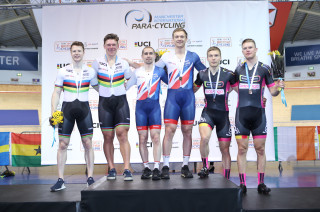 Fachie said:
"It's not often we have competitions that are so hard and so close. We had quite a few rides there that were just won by a fraction of a second so those are the kind of days that are really special to win and beating your team-mates is quite sweet in the final."
Mitchell said a change in approach after they lost the first heat was crucial to their comeback.
"In the first leg I made a mistake, my observation wasn't very good. The other tandem went and I missed it and they disappeared. I was pretty confident it was just a tactical error and nothing wrong with the legs that we couldn't make up in the next two rides, so I had a stern talking to myself and the second two rides were much much better."
Sophie Thornhill and Helen Scott also continued their supreme form adding the tandem sprint crown to their kilo win on Friday defeating Scottish duo of Aileen McGlynn and Louise Haston 2-0 in the final.
In the day's other events there were two gold medals for Crystal Lane Wright in the C5 individual pursuit and scratch race, with Jon Gildea pipping Will Bjergfelt to take the gold in the men's C4/5 scratch race.
Ben Watson added a silver medal to his growing collection in the C1-3 scratch, while Megan Giglia was beaten to the gold medal in the C3 individual pursuit. Giglia was caught with two laps to go by German rival Denise Schindler.
Jon Gildea pipped team-mate Will Bjergfelt to take gold in the men's C4/5 scratch race.