Great Britain Cycling Team's Tom Pidcock and Ben Tulett won silver and bronze respectively at the UEC Cyclo-cross European Championships.
Pidcock added silver to his impressive 2017 honours in his first-ever under-23 European championships while Tulett stole away from his rivals to take junior men's bronze in Tabor, Czech Republic.
Under-23 men
Great Britain Cycling Team's Tom Pidcock was caught in a crash in the opening lap, but recovered well to join a leading group of around seven riders.
The frontrunners swelled to ten riders after two laps, with a ten second gap opening to the chasers.
On lap four, Pidcock went to jump the hurdles as he had done throughout the race but came off his bike - flying over his handlebars after getting his front wheel stuck. Pidcock recovered quickly to maintain his place in the leading group, but chose not to jump on the following lap.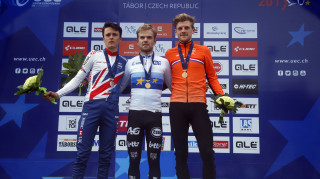 But lightning struck twice for the reigning junior cyclo-cross world champion, who again went over his handlebars on the hurdles on the penultimate lap - and this time a gap opened up with France's Dubau, Belgium's Iserbyt and Netherlands' Wouters pulling a few seconds clear.
Pidcock made up the difference and along with the Belgian Eli Iserbyt, pulled clear on the final lap with the two setting up for a sprint finish for the title.
Iserbyt held the lead as they entered the home straight, and with both riders veering towards the right hand side, Iserbyt held on to take the win - with the young British rider initially feeling that he may have been impeded in the closing straight before congratulating his rival.
Netherlands' Sieben Wouters took bronze.
Junior men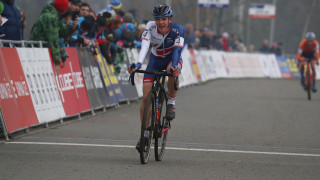 On a typically slippery course in Tabor, Swiss rider Loris Rouilleur broke away to take an early lead with Great Britain Cycling Team's Sean Flynn and Ben Tulett in a chasing group of five riders.
At the halfway mark, Czech Republic's Tomas Kopecky bridged the gap and took the lead, working well with Rouilleur to increase the lead to seven seconds from Dutch duo Pim Ronhaar and Ryan Kamp, with Tulett a further six seconds behind and Flynn another eight seconds back.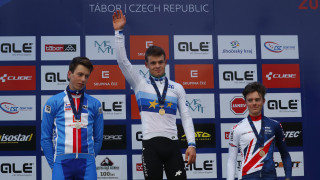 On the final lap, Tulett charged, catching and overtaking the riders from the Netherlands and pulling away in third place.
Ahead of him, Rouilleur left Kopecky in the sprint to take gold and the European title, with Tulett powering away to win an excellent bronze.
Sean Flynn finished sixth, 46 seconds behind the Swiss, with Lewis Askey taking 17th, just under two minutes behind the race winner.
In the elite women's race, Helen Wyman secured a top ten finish as world champion Sanne Cant took the gold.
With two laps gone, Wyman and British teammate Nikki Brammeier were ninth and 10th respectively, just over half a minute behind the race leaders.
Wyman moved up to eighth after three laps, but the gap was almost a minute which proved too much to close down - and that's where she ended her race, a minute and a half behind the Belgian Cant.
Brammeier finished 12th, just under two minutes down on the race winner with Hannah Payton in 22nd, 4:25 behind Cant.
In the under-23 women's race, Harriet Harnden secured a fantastic top-20 finish on her step-up to under-23 racing.
The 16-year-old had to race with older riders due to the lack of a junior women's category, but showed her youth did not mean a lack of ability by finishing 19th, 1:50 behind eventual race winner Chiara Teocchi of Italy.
The Italian pipped Laura Verdonschot to the gold on the line, with Nikola Noskova of the Czech Republic winning bronze.
Harnden's under-23 teammate Anna Kay also rode well, finishing 23rd, 2:11 behind Teocchi.