Great Britain Cycling Team Senior Academy rider Ethan Hayter is hoping to cap off a successful season on the road and track at next month's Tissot UCI Track Cycling World Cup in Manchester.
Hayter won team pursuit gold and points race silver at July's UEC Junior and Under-23 Track European Championships in Anadia, before claiming third on the road in the final stage of the Under-23 Tour Alsace the following week. He capped off his road season by representing Great Britain Cycling Team in the UCI Road World Championships in Norway.
The Tooting-born rider puts his success down to a year of hard work on the road.
"It's my first season of U23, so I've been learning a lot, and I've been going pretty well on the road too, so it's been good.
"I was really pleased with the result in Alsace and most of this year we've actually been doing a lot of road riding, so the other way round to what you would think.
"We've been doing predominantly road, and then dropping into the track to work on that each time there's been an event coming up – I enjoy doing both."
"You build a lot of strength doing the big miles on the road, and up the climbs, and it definitely helps when you go back onto the track."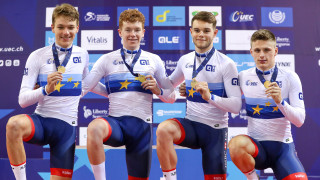 Hayter – who only got into the sport after being inspired by the London 2012 Paralympics – made his UCI Track World Cup debut in Apeldoorn last November, finishing fifth in the team pursuit alongside fellow Senior Academy riders Matt Bostock, Joe Holt and Matt Wall. He now hopes to be involved again in front of a home crowd in Manchester.
"I haven't looked too far ahead yet, it's been pretty hectic, but it would be great to race in the Manchester World Cup.
"I did the Apeldoorn World Cup last year, but I can imagine it'd be different in Manchester this year and hopefully we'll have a good chance of getting a good result.
"It'd be one of the biggest events I would've done, and good to hopefully do it in front of family and friends.
"A World Cup is a great thing to go and watch, it's not hard to understand and it's really fun – you can't really go wrong."
The TISSOT UCI Track World Cup takes place at Manchester's HSBC UK National Cycling Centre from November 10 and 12.
Tickets are avaailable from www.trackworldcup.co.uk/tickets.