Dan Tulett made history as he led home a sensational Great Britain Cycling Team one-two in the UCI MTB Junior Series at the Haleigh Park International on Sunday.
Tulett became the first British male to win a UCI MTB Junior Series race as he powered to victory on home turf.
@Tulett_Daniel99 takes a fantastic win for GB Cycling Team in the UCI Junior MTB Series @Hadleigh_IntMTB! #HadleighIntMTB pic.twitter.com/XLuikJehRp

— British Cycling (@BritishCycling) May 7, 2017
Cameron Orr followed Tulett over the line in the junior men's race in Essex on an excellent day for British Cycling's Junior Academy as all four riders finished in the top-ten, with Calum Fernie fifth and Sean Flynn 10th.
"It's the biggest win of my career," Tulett, 17, said. "I didn't even finish this race a year ago so this means everything to me."
.@Tulett_Daniel99 @Hadleigh_IntMTB And it is a for GB Cycling Team with Cameron Orr taking second @Hadleigh_IntMTB #HadleighIntMTB pic.twitter.com/YfVELGvCAs

— British Cycling (@BritishCycling) May 7, 2017
"I attacked at the last feed station where it's all uphill, then once you're into the arena in the lead it's all over, I knew I had it."
Last takes thrilling win
British champion Annie Last took a thrilling win in a sprint finish in the elite women's event.
OMX Pro Team's Last came out on top in a two-rider sprint with Barbara Benko.
Great Britain Cycling Team Senior Academy rider Ella Conolly was 13th, while Abergavenny's Ffion James took eighth and Last's teammate Isla Short ninth.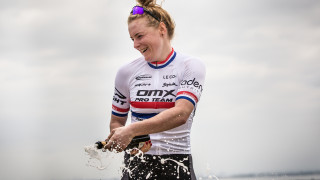 "There was enough wind today to make this a really tactical race so it was great to get the experience of riding at the front and stopping chases," Last said.
"I was happy to go into a sprint finish or lead it out as there were only two of us. I haven't raced for four weeks.
"I had a good winter of training, then did the Cape Epic which I'd never done before, after a bit of recovery from that I feel like I'm in a good place ahead of the world cup in two weeks."
Junior women's race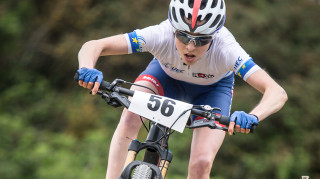 In the junior women's race, European champion Sophie Wright was fourth with Emily Wadsworth also in the top-ten with a sixth-place finish. Laura Stigger took the win.
11th for Clacherty
Great Britain Cycling Team Senior Academy rider Frazer Clacherty was 11th in the elite men's race - the second highest under-23.
British champion Grant Ferguson was fifth as Maxime Marotte took the victory.