Laura Kenny's parents, Adrian and Glenda Trott, were on hand to share their experience as British Cycling held a parent workshop at the Great Britain Cycling Team Apprentice World Cup in Derby.
Mr and Mrs Trott, parents of four-time Olympic champion Laura and former professional cyclist Emma Trott, spoke at the Derby Velodrome during the two-day meeting in March.
The Apprentice World Cup gives Great Britain Cycling Team youngsters, aged 13-16, the chance to experience a racing environment but with additional coaching support and feedback, to help them prepare for life on the Junior Academy.
But as well as an opportunity for riders, British Cycling held an informal event to give parents the chance to get more insight and information.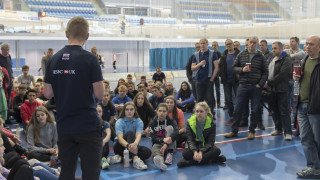 "We wanted to also give the parents a chance to gain more knowledge and hear from parents that have the experiences from the past, like Laura Kenny's mother and father," explained performance pathway coach co-ordinator Frederik Broche.
"The Trotts spoke about their experiences when Laura was a youth rider, how they could support her as a rider, what they were doing and what they were not doing - as an experience for the other parents to listen to them, to be able to ask questions.
"We had a really good workshop, a lot of positive comments, and a lot of questions from the parents: how do you handle this? How do you handle the work in school our kids have to do, the travelling, exams? What about nutrition?
"For a young teenager moving into bike racing, that's a new world, but their parents will have just as many questions, it will change their lives as well potentially."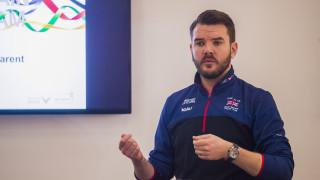 With Laura joining the Talent Team Programme in 2007 at the age of 15, parents Glenda and Adrian have first-hand experience of having a child on the Performance Pathway.
"The workshop was fairly general - I think if we'd have still been there would have been things to talk about," Mr Trott said.
"It was lot of compare and contrast and the way we approached life with Laura and Emma being on the programme compared to how they may be approaching it with their children.
"It's hugely important to get the balance right. There needs to be an education process.
"Parents come from different walks, different sporting walks of life. We were never cyclists. We embraced the cycling. Parents need to be spoken to and need to talk with other parents. What challenges are they having?"
On the back of the success of the workshop, British Cycling will look to host similar events with parents in the future.
Broche said: "We had a brainstorm before the event about who we would ask and this was a great opportunity to get the parents of Laura in but it can be someone else - as long as we can provide parents with knowledge and experience so the riders will benefit from it too."