British Cycling has announced that Dame Sarah Storey has taken up a role as the organisation's new policy advocate.
Dame Sarah, who having won fourteen Paralympic gold medals is Great Britain's most decorated female Paralympian, will work alongside policy adviser Chris Boardman in pushing forward British Cycling's ambition to turn Britain into a true cycling nation.
The governing body believes that, for decades, Britain's roads have been designed solely for motor traffic, with provision for walking and cycling pushed to the fringes.
It is no coincidence that the rise of societal problems such as the obesity crisis, type-2 diabetes, traffic congestion and air pollution are directly linked to people having no other option than to drive.
Cycling is the only form of transport which can meet the competing agendas of increasing capacity, reducing emissions, increasing physical activity, reducing noise and improving safety.
Dame Sarah explained: "I've spent the last decade of my life as an elite cyclist, representing my country at events around the world but, fundamentally, I just enjoy riding my bike, whether that is training hard for a major event or just heading out into the country lanes.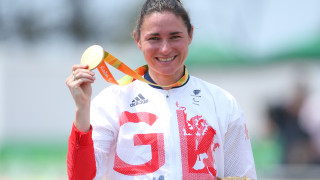 "I know that this is a passion I share with millions of other people across this country, and ensuring that people who wish to cycle have adequate convenient, safe opportunities to do so is a vision that I share with British Cycling.
"In order to encourage more people to get on their bikes, it is crucial that politicians and decision makers take on board safety concerns, and ensure that our roads are appealing, safe shared spaces which can be used conveniently by all road users, and I am looking forward to working alongside Chris Boardman and British Cycling to make this a reality."
British Cycling's current campaign for safer, simpler junctions – Turning the Corner – has attracted huge support: over 27,000 people signed an initial petition asking the Department for Transport to make a change to the Highway Code, while over 5,000 have since followed that up by asking their local MP to highlight the issue in parliament.
British Cycling's campaigns manager, Martin Key, said:"We're delighted to have Dame Sarah on board.
"Her outstanding record as one of this country's greatest ever athletes means she is very much a role model, and therefore she knows more than most the importance of encouraging people to take advantage of the physical, psychological and social benefits regular exercise can bring.
"However, we are still a long way short of many of our European neighbours in terms of providing the opportunities for people who want to ride to get out and do so.
"We are committed to pushing for greater political investment and stronger leadership around cycling infrastructure, and Sarah's voice will only help us in doing that."