Seventy mountain bike leaders representing all three levels of the British Cycling MTB Leadership Award pathway were welcomed to Plas y Brenin for a two-day development conference, earlier this year.
The event aimed to bring leaders together from all corners of the country, providing qualification updates and development opportunities. Co-hosted by the National Mountain Sports Centre at Plas y Brenin and the Mountain Bike Leadership team at British Cycling, the varied agenda set out to challenge practices and share great work.
Day one featured a series of interactive workshops and keynotes focussing on topics such as mountain bike leading by Chris Gibbs (H&I Adventures) and Sean Howell (Marmalade MTB).
There were also talks on using social media from Juliet Elliott (Bikes n Stuff), and the story into Lee Craigie's (The Adventure Syndicate) first attempt at the Highland 550, a self-supported 550+ mile mountain bike event. Ogwen Valley Mountain Rescue spoke about advanced casualty management whilst ATG Training shared an insight into what a professional Cytech cycle technician carries in their tool roll.
The recent storms Doris and Ewan ensured that there were plenty of fallen of tress on Gwydir Mawr trail to provide a fresh adventure on day two. Everyone headed outside for a series of structured trail rides with leaders choosing one of the many groups that best suited their on-going leadership goals.
What the MTB Leaders thought of the conference
We caught up with leaders Jenny Parkes and Fab de Liberali to hear about their experiences at the Plas y Brenin Conference.
Jenny, who achieved her Level 2 Award in 2013, said: "I found the conference very interesting and came away with renewed confidence and enthusiasm.
"I wanted to refresh and update my skills, and also find out what I need to work on in preparation for Level 3 training. I wasn't quite sure what to expect from the conference but I found the sessions and talks informative, and talking to other leaders and exchanging ideas was interesting."
Fab is also a Level 2 leader who attended the conference to refresh his knowledge and network with other leaders to share expertise. When asked about which workshops he particularly liked on the day, he said:"All of them! I found it very useful how other MTB leaders shared their experiences, as well as getting updates from British Cycling.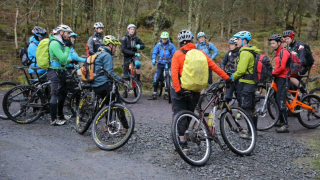 "It was inspiring and refreshing being out together; I particularly enjoyed riding with other guides".
After day two of the weekend, Jenny said: "The pump track at Plas y Brenin was a very good facility for developing skills on and it was fun, before heading out on the trails.
"The ride we did focussed on what to expect at Level 3 training. It was inspiring to discover that the Level 3 type of terrain is the sort of trails I already enjoy and ride."
Jenny is heading back to Plas y Brenin mid-2017 to complete a Level 3 Mountain Bike Leadership course and wants to continue her development by getting young riders and girls more active with new cycling experiences.
Interested in becoming a mountain bike leader?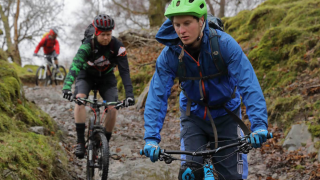 British Cycling offer three levels of Mountain Bike Leadership Award. Visit the awards webpage for more information and find out exactly what you will learn on the course.