It's all change with the National Youth Forum (NYF) as we are looking for new reps to join the 2017/18 group, bringing with them enthusiasm, new ideas and a drive to further the sport.
If you are part of a Go-Ride Club, have achieved or are in the process of achieving the CAYV Gold Award and think you've got what it takes to make a difference in this rewarding role, we want to hear from you.
The role
The NYF is a group of 12 young people who take on important projects related to the progression of cycling in the UK. It's a fantastic environment to take your volunteering and leadership to the next level, trading skills with the other reps and British Cycling development staff to gain valuable experience.
On joining the forum, representatives will form small working groups to lead various projects supporting the HSBC UK Go-Ride programme within British Cycling. This will involve splitting wider projects into manageable tasks, working together to organise meetings and keeping in touch regularly.
In addition to driving forward this important work, the forum also provides challenging and highly relevant training in the form of workshops that will help you develop skills for life. Here, young leaders should not be afraid to venture outside of their comfort zone; we consistently hear from reps that doing so can be the most worthwhile experience of all.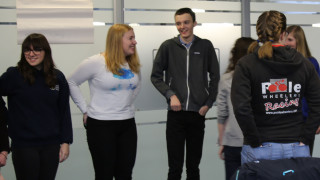 There are a number of working groups on offer which cater for a wide range of interests. We are therefore looking for young leaders who can drive ideas and projects forward, with a real passion for innovation.
What to expect
Rebecca has been a NYF Rep for the last year and is therefore well-placed to pass on her experiences.

Name: Rebecca
Go-Ride Club: Welwyn Wheelers
Favourite Discipline: Track
The three things you most enjoy about the NYF:
Completing projects to help the Go-Ride Programme
Meeting other young leaders who have become true friends
Working with British Cycling staff and helping make decisions
What are your three top tips for new representatives?
Get stuck in with ideas and opinions
Talk to people and spread the message of the NYF
Listen to other NYF members and their ideas – you'll learn a lot!
Finally… sum up the NYF in three words:
Your commitment
We currently host four meetings annually and representatives are also asked to attend and contribute to one of the HSBC UK Go-Ride Conferences:
July 2017, Manchester: A two-day meeting with an overnight stay, packed with introductions, activities and our first formal get together as the new NYF.
August 2017, Leeds: A one-day meeting to catch up and continue working together on projects.
November 2017, Birmingham: A one-day meeting to further develop projects and experience different workshops
January 2018, London: A one-day meeting to review project progress and plan for the future
A HSBC UK Go-Ride Conference: Dates and venues to be confirmed, where we ask each representative to attend one of the spring conferences.
All meetings and reasonable travel/accommodation costs are fully covered. We ask all members to be available for these meetings in order to contribute to ongoing projects.
Interested?
Young people aged 16+ are invited to apply by completing and returning an application form, available via the button below.
Application deadline: 5pm, Friday 12 May 2017
If you would like more information or for an informal chat about the National Youth Forum please don't hesitate to contact Joel Callister (Senior Development Officer, Clubs & Volunteers) on 0161 274 2126 or joelcallister@britishcycling.org.uk