The junior track team return home from the world championships with medals, personal bests and world class racing experience under their belts, as the event drew to a close in Aigle today.
One rider will be carrying an extra piece of luggage on the return flight home; a rainbow jersey.
Rebecca Raybould delighted the watching supporters and herself as she took the world title in the scratch race on Friday.
Other British successes included silver medals for Matt Walls and Jessica Roberts in the points race, and a bronze from the men's team pursuit.
Rhys Britton and Eleanor Dickinson were among the riders who achieved a new personal best at the championships and the whole squad got their first taste of world class competition as Great Britian returned to the championships after a three-year abscence.

Men's Madison
Jake Stewart and Reece Wood started the Madison event strongly, sitting in third position after two sprints but soon lost a lap to New Zealand, Australia and Switzerland and moved to sixth in the standings.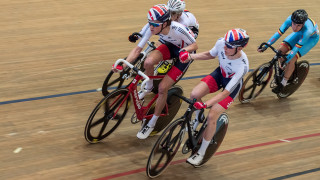 The British duo gained a lap themselves and moved to fourth, only two sprint points away from the silver medal, but the effort left them unable to chase the leaders in the following sprints, meaning they finished the race down in sixth place.
Women's omnium
Eleanor Dickinson continued her good form from the early rounds of the competition by taking second place in the individual pursuit in the first event of the day.
The British rider followed this up with the fifth fastest ride in the flying lap event, which left her sitting in fourth place in the overall standings going into the final event.
Attacks from riders in the lower positions and leader Balsamo's unbeatable sprinting speed made the points race a torrid affair for the rest of the field. Dickinson took intermediate sprint points but couldn't find the opportunity to take the lap she needed to propel her into the medals, and she finished fifth at the end of six rounds.
Gallery
Women's keirin
Georgia Hilleard and Sophie Capewell rode in the women's keirin, after two full-on weeks of competition at the world and European championships.
The two riders were edged out in the opening rounds and contested the repechages but did not progress.
Results