The Bicycle Association has announced that its partnership with British Cycling's Go-Ride programme will continue for a third year.
The partnership - originally signed at the beginning of 2014 - will now run until December 2016, helping Go-Ride to provide even more chances for young people across the country to get involved with cycling.
In the first two years of the partnership, Go-Ride has created over a million opportunities for children to access cycling in schools and communities; supported a network of over 6,000 volunteers at 300 Go-Ride Clubs; and established five disability hubs, which provide youngsters with a disability with a chance to get into cycling.
John Mills, director of coaching and education at British Cycling, said: "Both British Cycling and the Bicycle Association are passionate about giving young people an enjoyable and safe introduction to cycling, and that is exactly what we aim to provide through our Go-Ride programme.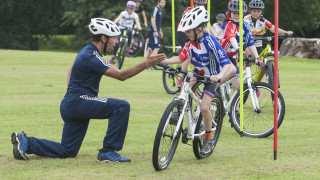 "It's fantastic that the Bicycle Association and its members will continue to support Go-Ride for another year and help to cement the future of the next generation of cyclists."
Go-Ride is the first step on British Cycling's performance pathway, with over 70% of the current crop of funded riders on the Great Britain Cycling Team having progressed from Go-Ride Clubs.
Steve Garidis, operations director of the Bicycle Association, said: "The Bicycle Association is thrilled to be supporting this fantastic programme for a third year thanks to the contributions made by Bicycle Association members and the hundreds of bike shops that participate in the Bike Hub levy scheme.
"Without their ongoing support, it would not be possible to continue to invest in great programmes like Go-Ride which are so vital to get more kids into cycling."
The Bicycle Association is a trade body representing all of the major manufacturers, distributors and wholesalers of bicycles, parts and accessories in the UK, using the cycle industry's Bike Hub levy to raise funds to safeguard the future of cycling.