With just a week to go until the UCI Track Cycling World Championships at Lee Valley VeloPark in London, British Cycling has announced an initiative to provide cycling opportunities for young people and hard to reach groups in the capital.
Working across numerous boroughs, British Cycling's Go-Ride programme for young people has joined together with the Mayor of London's Office, Lee Valley Regional Park Authority and Access Sport to provide coached cycling activities.
The project bolsters an already successful development programme, which saw British Cycling deliver over half a million opportunities for young people across the country last year through its network of Go-Ride coaches and clubs.
Made possible by legacy funding as a direct result of the Championships taking place within Queen Elizabeth Olympic Park, the new partnership will see a dedicated Go-Ride coach work alongside each of the three London partners within local schools and communities.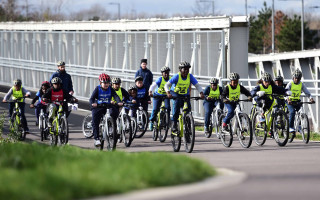 The target boroughs for the Mayor of London's Office and Lee Valley Regional Park Authority are Waltham Forest, Hackney, Tower Hamlets, Newham, Southwark, Lewisham, Greenwich, Redbridge and Barking and Dagenham. The Access Sport activity is London-wide.
The mayor of London, Boris Johnson MP is supporting this initiative with a £50,000 award from his Sports Legacy Programme, a £25m scheme that has, since 2009, been supporting London's promise of an Olympic legacy by creating opportunities for Londoners to get into sport.
Mr Johnson said: "London is one of the greatest cities in the world for hosting major sporting events and I am delighted that we are able to harness the power of these championships to encourage more young people to take up cycling.
"My Sports Legacy Programme has already benefitted more than 400,000 Londoners and I am sure that many more will be inspired by this competition to develop a sporting habit that will stay with them for life."
John Mills, British Cycling's director of coaching, education and development, said: "Welcoming the track world championships to London early next month will be special, but once the racing is over, British Cycling has clear objectives in order to maximise the event's legacy, and ensure that the Championships has a real impact on young people in and around the capital.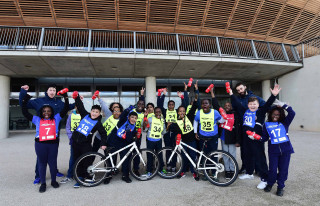 "We have long-term visions for these three partnerships - we want to ensure not only the effective delivery of opportunities, but also the long-term sustainability of the sport.
"Maintaining momentum after an event of this scale enhances pathways into cycling for leisure, competition or within the community, which will significantly widen participation in cycling in the identified London boroughs.
"Together with commercial partners, Evans Cycles and The Bicycle Association, the Go-Ride programme is set to deliver over two million opportunities for young people nationwide by 2020. This initiative is a great step towards realising that ambitious aim."
Go-Ride aims to make cycling accessible to young people of all ages, abilities and social backgrounds, providing them with a clear pathway from the playground to competition. In each of the boroughs benefitting from the new partnership, a Go-Ride Coach will work to establish cycling activities by creating links between schools and community clubs.
Paul Coates, Sports Development Manager at Lee Valley Regional Park Authority, said of the initiative: "The Great Britain Cycling Team has long been at the top of their game, and British Cycling has been able to translate this success into mass participation at grass roots level. For us, this partnership is a great opportunity to make cycling accessible to the young people growing up close to these great facilities."
Each of the three Go-Ride coaches working in London is employed by British Cycling and match funded by their partner organisation. Overseeing the wider project will be lead Go-Ride coach, Jason Cattermole, who is based at Herne Hill Velodrome within the borough of Southwark and has six years of experience as a Go-Ride coach.
Jason said: "Whether I'm working with young people on their school's playing field, on the track here at Lee Valley VeloPark or Herne Hill, it's clear to see the impact Go-Ride can have. With access to some amazing facilities and hugely experienced coaches, we can offer young riders an experience to try cycling as they've never seen it before and nurture talented youngsters along their own rider journeys."
While the partnerships with the Mayor of London's Office and Lee Valley Regional Park Authority are new for 2016, British Cycling's work with Access Sport was established in 2014 with an aim of engaging young people in the sport of BMX by offering dedicated coaching. Further information about the gains already made is available from an article published earlier in the year.