Great Britain's top cyclo-cross stars will travel to Huijbergen in the Netherlands on Saturday 7 November for the 2015 UEC European Cyclo-cross Championships.
An eight-rider team will be led by Great Britain's elite women, with Nikki Harris hoping to repeat her podium performance of 2014.
The team
Elite women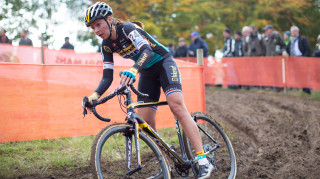 Nikki Harris
Helen Wyman
Nikki Harris approaches the European championships in great form, with a third place in the most recent international event, the Bpost bank Trophy Koppenberg 'cross, an indicator of her current condition.
Harris was set for a podium at the second round of the UCI Cyclo-cross World Cup in Valkenburg back in October, only denied by a frustrating last-lap spill, the 28-year old finishing sixth to leave her in 14th in the standings, having missed the opening CrossVegas round.
Harris took European bronze 12 months ago in Lorsch, Germany behind Belgium's Sanne Cant and Pavla Havlikova of the Czech Republic.
Harris will be joined by nine-time British champion Helen Wyman in the elite category, the 34-year-old currently lying in tenth overall in the world cup standings after contesting the Las Vegas and Valkenberg rounds.
Under-23 women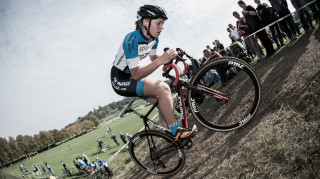 Hannah Payton
Amira Mellor
Beth Crumpton
Hannah Payton is the form British woman in the under-23 category, the Kinesis UK rider currently dominating the British Cycling National Trophy Cyclo-cross Series with two wins out of two.
Payton has contested the domestic series alongside the world cup, placing 27th in both of the opening two rounds.
Amira Mellor took the British Cycling National Trophy Cyclo-cross Series title last season as a junior and the Yorkshire sensation is set to battle in the under-23 class in Huijbergen. Mellor has contested both world cup rounds this season in the elite class, finishing 38th and 35th.
Beth Crumpton completes the British under-23 line-up, the North West MTB Centre-rider fresh from an impressive top-twenty world cup finish in Valkenberg.
Junior men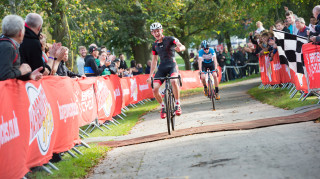 Daniel Tulett
Tom Pidcock
Ben Turner
Moving up from the youth ranks this season, Dan Tulett impressed on the domestic scene early on, winning his first National Trophy round as a junior before placing 16th at world cup level in Valkenberg despite a mechanical.
Tulett is joined by Tom Pidcock and Ben Turner, both of whom will trade Oldfield/Paul Milnes kit for Great Britain Cycling Team colours. Pidcock currently leads the National Trophy junior rankings, winning ahead of teammate Turner in the second round in Derby.
The event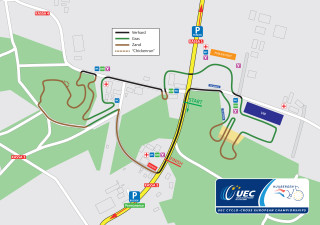 Huijbergen has a long and colourful history in cyclo-cross, stretching back over 60 years. The venue has previously hosted the European championships, back in 2006, amid numerous Dutch national championships and international events and is anticipated to attract upwards of 15,000 spectators according to organiser estimates.
Schedule
Huijbergen is one hour ahead of GMT.
10.00am - Junior men
11.15am - Under-23 women
12.30am - Under-23 men
1.45pm - Elite women
3.00pm - Elite men
How to follow the racing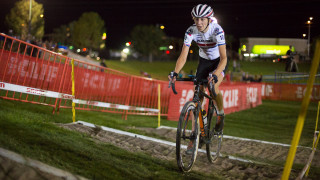 A report, results and images will appear on the British Cycling website
Follow @BritishCycling on Twitter for updates
The elite men's and elite women's races will be broadcast live on the UEC website from 12:35pm to 3:20pm UK time (with commentary in Dutch from Marianne Vos).