Ed Clancy has been ruled out of contention for the Great Britain Cycling Team squad for October's UEC European Track Championships with a slipped disc.
The 30-year-old will not be available for the event in Grenchen, Switzerland - from 14-18 October - as a result of picking up the injury in training.
The double 2012 Olympic medallist was in the final stages of an endurance training block, when he sustained the injury.
Great Britain Cycling Team men's endurance coach Heiko Salzwedel explained: "It's one of those freak accidents.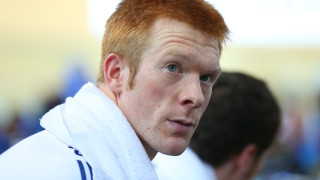 "He did a fantastic four weeks' endurance training where he went to the maximum. He really came out of the Tour of Britain in good shape but very tired.
"When you're tired it affects your muscle. It was just one of those freak things, he just turned to pick up his bag and his disc slipped."
Diagnosis
Salzwedel continued: "Our physiotherapist Phil Burt jumped in a car with Ed and went to Leeds to see a back specialist. The vertebral scan confirmed the slipped disc and he is now unable to do anything at all for the next two weeks.
"This means that his hopes for the European Championships, which were supposed to be his highlight for world championship qualification, are now over. We've discussed it and his participation has been ruled out."
Clancy was part of the squad that won team pursuit gold at the 2014 championships in Guadeloupe, before collecting bronze in the scratch race.
He will aim to return for the first round of the UCI Track Cycling World Cup in Cali on 30 October-1 November. Further world cups will be held in New Zealand in December and Hong Kong in January.
Current UCI rules state that riders must attend at least one world cup each season before they are allowed to compete in the UCI Track Cycling World Championships, taking place in 2016 in London from 2-6 March.
"We are sticking to that plan so I hope that we can get him ready in time for Cali in order to secure his spot for the omnium," Salzwedel said.