The 2015 British Cycling Elite Circuit Series reaches its fifth instalment on Wednesday 22 July with the Sheffield Hallam Grand Prix.
Series leader Jon Mould of ONE Pro Cycling cemented his lead with a strong finish at round four in Colne and will once again look to consolidate his position in South Yorkshire.
Raleigh GAC's Andrew Haldon returns after a maiden Elite Circuit Series win in Colne a week ago, continuing a theme that has seen four different winners in four races.
Following Sheffield the series moves to Beverley in Yorkshire and Chepstow in South Wales before the finale in Abergavenny.
Form guide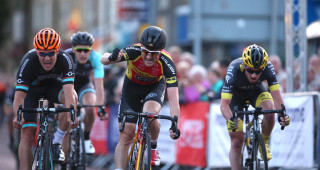 Jon Mould took the series lead after a dominant lone win at round two in Stafford and after a fourth-place finish at the Colne Grand Prix on 15 July, the ONE Pro Cycling rider extended his series lead, with 100 points to second-placed Dave McGowan's 86.
McGowan however limited his losses, placing fifth behind Mould in Colne, the Pedal Heaven RT rider keeping himself firmly in touch as the series passes its halfway stage.
Raleigh GAC's Evan Oliphant is a distant third in the series with 63 points, while behind JLT Condor's Felix English moves up to fourth on 52 points after a strong third place in Colne.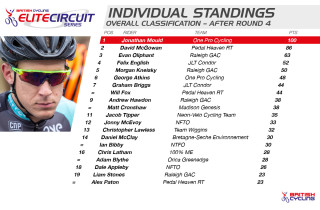 The JLT Condor squad will hope for an incident-free race after Richard Handley suffered a broken collarbone in a crash at Colne that also brought down Mark McNally (Madison Genesis), Ian Wilkinson (Raleigh GAC) and 2013 series champion George Atkins (ONE Pro Cycling).
After his first Elite Circuit Series win in Colne, Raleigh's Andrew Haldon is once again on the start list, as is NFTO's Ian Bibby, with two Elite Road Series wins under his belt.
The 2012 series winner Graham Briggs will hope to open his account for JLT Condor while Stockton Town Centre Race winner Chris Lawless' Team Wiggins squad is absent for the Sheffield event. Also absent is 2014 race winner, JLT Condor's Kristian House.
The event
The 2015 edition of the Sheffield Hallam Grand Prix will be the fourth time that city centre racing has graced the streets.
The Elite Circuit Series event is part of a whole evening of cycling action, with a third and fourth-category event at 7:00pm before the main event at 8:15pm.
Riders will race for one hour on the 1.4-kilometre lap course that begins on Pinstone Street, before a left hander on to Furnival Gate. Another left turn takes riders onto Arundel Gate, passing Sheffield Hallam University before a sharp hairpin left after the Crucible Theatre.
On to Norfolk Street and action hits the cobbles, heading right and on to Surrey Street for the final left hander that takes the race back to the start/finish line.
How to follow the racing
A report, results, reaction and images will appear on the British Cycling website
Follow @BritishCycling on Twitter for updates from 8.15pm on Wednesday