---
Olympic silver medallist Lizzie Armitstead joined the Lord Mayor of Bradford and Dan Goodey Recreation Manager at British Cycling to look back on an amazing year for cycling in the city.

Lizzie Armitstead joins local cyclists to hear about their achievements

Lizzie enjoyed a bike ride around the award-winning Lister Park with young people and British Cycling Ride Leaders before heading to an evening celebration. Armitstead listened to local cyclists share their achievements and told her amazing story about the London 2012 Olympic Games and how she won an Olympic silver medal in the women's road race.
Speaking about the event, Olympic silver medallist, Lizzie Armitstead, said:
"It's been fantastic to celebrate how cycling is booming in Bradford. Seeing so many young people enjoying themselves on bikes really brings home how London 2012 has inspired hundreds of locals, including women, to take up cycling.
"There is something in Bradford for anyone who likes cycling – from lovely countryside routes, cycle paths, led rides from Sky Ride and Breeze, and brilliant clubs like East Bradford CC. I hope this event encourages even more people to give life on two wheels a try."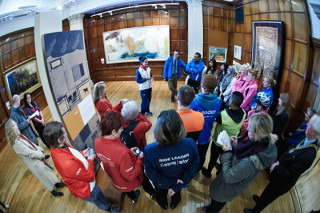 Armitstead takes questions from British Cycling Breeze Champions and Sky Ride leaders
British Cycling's partnership with Bradford Council has thrived over the past three years, reaching an all-time high in 2012.
Sky Ride Bradford saw 7,000 people take to their bikes for an unforgettable day of traffic-free bike riding around some of the city's most iconic landmarks. The city also hosted a series of fun, free organised Sky Ride Local bike rides for all ages and abilities throughout the summer. The partnership has also helped to raise the profile of cycling across the city through bike breakfasts taking place in the city's Centenary Square and other local cycling events.
Councillor Andrew Thornton, Bradford Council's Executive Member for Environment and Sport, said:
"We are creating a lasting legacy for cycling in the District with families thoroughly enjoying the opportunity of getting on their bikes together.
"We are absolutely delighted that Lizzie Armitstead has come to help us celebrate this great sport. As an OIympic silver medallist, she is a great role model for the youngsters."

Armitstead gathers with the Lord Mayor of Bradford, British Cycling Breeze Champions, Sky Ride leaders and some of those introduced to cycling through local initiatives.
In 2012 Bradford Council's Youth Service provided greater access for children to take part in a range of free cycling activities to help raise the sense of wellbeing, aspiration and achievement amongst young people in the city.
A number of youth workers trained as Ride Leaders and the service built a fleet of bikes so that cycling could become a regular part of life for young people in the city. Last September, a group of 12 young people from the Youth Service completed a bike ride to the German town of Hamm, Bradford's twin town.
Councillor Ralph Berry, Executive Member for Children and Young People's Services for Bradford Council said:
'It's fantastic that Lizzie has come along to meet so many young people in Bradford. Today has been a real celebration of our very fruitful partnership with British Cycling.Cycling has opened the door for many more young people across the district to get involved in the sport in a way that is safe and supported.'
Last year British Cycling's women's only programme, Breeze, enjoyed its biggest ever year in Bradford. Hundreds of women took the opportunity to get back on their bikes and take part in relaxed and friendly rides led by female Breeze champions.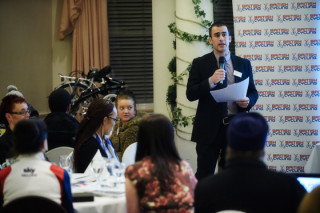 Dan Goodey details the partnership between Bradford Council and British Cycling
Speaking about the partnership, Dan Goodey, British Cycling Recreation Manager for Bradford said:
"Our Partnership with Bradford Council has developed brilliantly over the past three years. We are now delivering more and more opportunities for young people, women and families to get involved in cycling.
"Working with our council colleagues has enabled us to deliver cycling activities right in the heart of the communities in Bradford and to people who otherwise might not have the opportunity to get involved.
"We've also been able to use the support from the council to ensure our rides are as inclusive as possible so that people of any age or ability can enjoy riding a bike."
For more information about how to get into cycling visit www.goskyride.com