Sport England's Fellow Visits British Cycling
---
British Cycling welcomed Sport England's Parliamentary Fellow Rehman Chishti MP to their headquarters in Manchester last week to share their secrets of success.
Rehman, the Conservative MP for Gillingham and Rainham, toured the world-leading velodrome, home to the Great Britain Cycling Team and Team Sky, and the indoor BMX track, which recently opened its doors to the local community.
The visit provided Rehman with an insight into how British Cycling is using Sport England investment to deliver mass participation programmes such as Sky Ride, helping those who haven't ridden before to try the sport for the first time.
Sport England was able to show how investment into national governing bodies is boosting levels of participation and developing the infrastructure that delivers community sport.
As well as seeing grassroots cycling in action, Rehman also followed a Team GB training session in preparation for the London 2012 Olympic and Paralympic Games.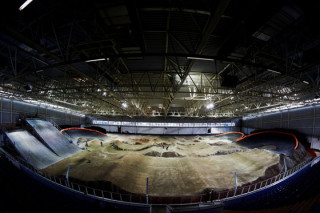 "Going behind the scenes at British Cycling and meeting the team who deliver the development and performance sides of cycling gave me a fascinating insight into how the sport operates", said Rehman Chishti MP. "It's good to know that the outstanding success of the elite side of the sport is now being replicated at the grassroots."
"We were delighted to host Rehman and the team from Sport England as part of their Fellowship together". said Ian Drake, Chief Executive of British Cycling. "It's great when we can showcase how the sustained investment into sport can deliver increased participation and all the benefits sport delivers for local communities."
"It was great that, as part of his Fellowship, Rehman was able to see and hear how the investment we make into British Cycling is delivering significant growth in the number of people getting out on their bike", said Lisa O'Keefe, Sport England's Director of Sport. "Watching local cyclists of all abilities using the velodrome and BMX track brings to life the value of our investment in a powerful way."
Rehman is on Sport England's Parliamentary Sports Fellowship Scheme, which has led to nearly 30 parliamentarians working alongside a variety of sporting organisations over an 18-month period in the lead up to the London 2012 Olympic and Paralympic Games. Rehman has been working with Sport England since January 2011.
The cross-party scheme delivers mutual benefits to sport and politics, with parliamentarians gaining a greater understanding of the strategic, governance and operational issues that a governing body faces whilst sports officials have the chance to learn more about how Parliament works.
The scheme is supported by Sport and Olympics Minister Hugh Robertson MP, Shadow Spots Minister Ian Austin MP and Don Foster MP.