---
As momentum builds on road safety issues, yesterday the focus moved to London as the London Cycling Campaign (LCC) added its voice to recent demands for radical improvements to cycling infrastructure, with the launch of its 'Love London, Go Dutch' campaign, asking Londoners to petition mayoral candidates to deliver radically different, continental-style cycling infrastructure in the capital.
The LCC campaign has three main demands: Implementing three flagship 'Go Dutch' developments; making sure all planned developments on main roads that they control are redesigned to Go Dutch key principles and ensuring that the current Cycle Superhighway programme is completed to Go Dutch standards.
This is very much in line with British Cycling's road safety strategy and it is clear that cycling will be a prominent issue in the London mayoral elections with Boris Johnson having invested in flagship projects including the cycle hire scheme and cycling super highways whilst Ken Livingstone, having pledged to improve conditions for London cyclists announcing yesterday that if he is elected cyclists would be given a five-second priority at busy junctions.
The Go Dutch campaign comes on the back of research conducted by YouGov which found that fear of mixing with faster moving traffic and junction design which failed to take into account the needs of cyclists were key factors in restricting participation in cycling in the capital. Holland has one of the best figures for cycling as a share of total journeys at 26%, the corresponding figure in this is country being 2%.
At the launch LCC chief executive Ashok Sinha said, "We're calling on the next Mayor to provide safe and convenient bike lanes on main roads, safer passage for cyclists and pedestrians across roundabouts and junctions, and more people-friendly streets where people work, shop and live."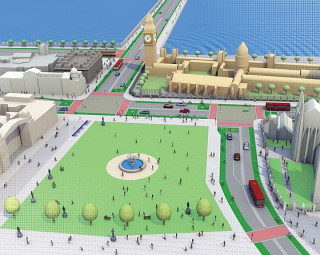 Above: London Cycling Campaign's design for Parliament Square, remodelled as "people-friendly streets where people work, shop and live."
To coincide with the campaign launch, the LCC released radical new designs for cycling infrastructure at Parliament Square and the Olympic Park; similar to design ideas submitted recently by the group for the controversial Blackfriars junction.
British Cycling supports these demands and cycle-friendly road layouts is one of the key themes of its road safety policy, in line with the message coming from The Times' Cities Fit for Cycling campaign, which, among its eight manifesto points, demands for urgent revision of the capital's 500 most dangerous junctions and the appointment of a dedicated cycling commissioner for all large cities, whether those cities has a mayor or not.
For those cities electing mayors in 2012, it is imperative that cycling safety should be high on the agendas of mayoral candidates. British Cycling President Brian Cookson last week wrote an open letter to 2012 mayoral candidates, urging them to put cycling high on the priority list of sustainable transport planning.
In the letter Cookson says "British Cycling would like to hear how you intend to make the city safer and friendlier for cyclists. Whilst we know that as more people have taken up cycling it has become safer and overall accidents are coming down, we have still seen fatalities and serious incidents in London last year, many of them involving heavy goods vehicles.
"This issue concerns all cyclists, whether it's elite riders going out to train, someone who commutes to work, or a busy mum who wants to do some laps of Richmond Park on Saturday morning to keep fit." You can read the President's letter here.
Cookson's message has been echoed by Olympic champion Nicole Cooke who also addressed mayoral candidates in a recent article here. Amongst other cycle safety concerns, Cooke said "If we want more and more people to ride their bikes we can't have parts of the city where cyclists feel like they are taking a big risk just crossing a junction, it just shouldn't be that way."
If you're a London cyclist, or just thinking about it, British Cycling urges you to sign the LCC's petition here and lend your support to the campaign for state of the art, Dutch-style cycle routes in the nation's capital.
Related: British Cycling Road Safety Manifesto | Times Cities Fit for Cycling Campaign