---
British Cycling Chief Executive Ian Drake has confirmed his plans to ride the Brompton World Championships to be held at the Orbital Cycling Festival in Goodwood on the weekend of 27-28 July.
Above: The Brompton World Championships can be won or lost at the Le Mans-style start.

The Brompton World Championships is now in its eighth year but 2013 sees a move from its spiritual home at Bike Blenheim to historic Goodwood, home of all things speedy.
The governing body chief will ride the Brompton 'triple' – comprising the Sprint, a 500 metre all-out effort, the Eliminator – employing the classic track 'devil take the hindmost' format and the Championship race itself, held over a four laps of a closed road circuit, totalling 9.6 miles. All participants must race on the iconic Brompton folding bike, with its diminutive 16 inch wheels and ingenious folding mechanism.
Furthermore, strict competition rules stipulate that all riders must wear a jacket and tie with a no Lycra rule rigidly enforced.
The championship race begins with a Le Mans style start, requiring riders to unfold their steeds before setting off. With 1000 due to take part, the result is one of the most absurd yet compelling spectacles in cycle sport, a scene that the British Cycling Chief Executive is eager to immerse himself in.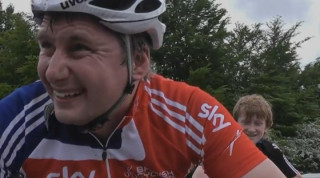 Above: Drake is no stranger to the white heat of competition - pictured here shortly after completing the Dalby Dare mountain bike race in 2011.
Drake uses his trusty folding bike on his multi modal commute from his home in Nottingham to Manchester's National Cycling Centre and following a solid winter of cyclo-cross racing the idea of taking his foldie-riding to the next level began to germinate:
"Every morning I ride the three miles from my home on the outskirts of Nottingham and catch the train to Manchester. Like everyone else who rides a folding bike, nothing makes my day like chugging past people on normal bikes..
"I'd heard of the Brompton World Championships before and thought it looked a lot of fun, so when a colleague at British Cycling encouraged me to enter, I could hardly refuse."
We asked Ian if he'd been doing and specific training for the event; however the Chief Executive was tight lipped; "At this stage I wouldn't like to give my competitors any advantage but I can confirm that I'm not using extra round 16 inch wheels, adopting the banned superman position or wind-tunnel testing an aero suit jacket."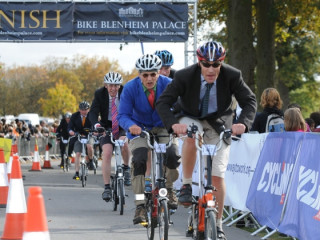 Above: The racing is taken as seriously as the draconian dress code.
Sources close to Drake revealed that he has extended his normal commute to 19 miles; a sign that the Chief Executive is planning a serious assault on the general classification. Great Britain Cycling Team head coach Shane Sutton wasn't impressed – "To have a hope in hell of a decent position Ian should have put in a lot more base miles early season. He's making a mockery of the event."
"At this stage I wouldn't like to give my competitors any advantage but I can confirm that I'm not using extra round 16 inch wheels, adopting the banned superman position or wind-tunnel testing an aero suit jacket."

Ian Drake on maintaining his competitive edge
Drake refused to be drawn on his hopes for a podium finish, with past winners including former British time-trial champions Michael Hutchinson and Julia Shaw as well as former professional road racer Roberto Heras.
The British Cycling Chief Executive has enlisted the help of former technical advisor to the Great Britain Cycling Team Chris Boardman, in an attempt to yield some marginal gains from this unorthodox racing set-up.
We spoke to Boardman who was reluctant to comment on specifics but nonetheless revealed: "We've attempted to apply the tried and tested principles of 'marginal gains' fundamental to Great Britain's successes at Athens, Beijing and London.
"However, an aero position is hard to achieve on a Brompton so we've gone back to basics; we'll pump the tyres up and give the chain a good oiling. Ian has been practicing unfolding his bike, his suit is at the dry cleaners so as far as I'm concerned we're good to go."
Drake has also drawn on the hitherto unknown technical skills of British Cycling Policy and Legal Affairs Director Martin Gibbs who will act as pit crew for the weekend. Gibbs heads up British Cycling's campaigning activities but will put aside policy documents and political influencing for the weekend to ensure that Drake's diminutive machine is in peak condition. Together Boardman and Gibbs comprise what has been dubbed the 'Fursty Ferret Club', a nod to the crack technical team behind Great Britain's world beating track performances.
Worryingly however, further conversation with Gibbs raised concerns that Drake's final preparations may be less than ideal, revealing that his trick racing Brompton hasn't turned a wheel yet and is still languishing in the Drake garage. "I haven't even screwed the pedals on yet, and to be honest I can't remember which one has the left hand thread" admitted Gibbs as he studied a dog-eared copy of Richard Ballantine's Bicycle Book. This worrying lack of fundamental mechanical knowledge could cost Drake dearly come race day.
Win or lose Drake sees the event as a fun way of bridging the gap between utility cycling and competitive sport: "The Brompton World Championships is one of those events that puts the fun back into cycling," said Drake. "For sure there are serious competitors out there but I think the event appeals to cyclists at both ends of the participation spectrum."