---
Sir Chris Hoy, British Cycling President Brian Cookson OBE, former Olympian Geoff Cooke, multiple BMX world champion Shanaze Reade and para-cycling world champion Jon-Allan Butterworth carried the Olympic flame for cycling as it made its way through Greater Manchester this weekend.
Above: Sir Chris Hoy drew in big crowds as he carried the torch along Deansgate in central Manchester.
Crowds lined Deansgate in central Manchester as Sir Chris Hoy completed his leg of the torch relay. Manchester has become the adopted home of Edinburgh born Hoy and the Manchester crowds greeted the Scot as one of their own.
Speaking to the Press Association, Hoy revealed that for him the torch relay had been a 'family affair':
"My mum carried the torch just outside Wigan, my great uncle Andy carried it just outside Dundee and I watched them both online on the live-cam and it was very emotional to see what it meant, particularly to my great uncle Andy."
"He's 95 years of age and to see how many people from the community came out to support him, it was phenomenal.
"It just shows the Olympic torch, it's not about gold medals, it's about communities coming together and supporting people who have made a difference to them."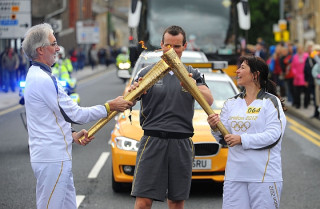 Above left: British Cycling President Brian Cookson lights his torch for cycling: "I am not just there as an individual but also as a representative of the whole sport of cycling... ...all of the people who keep the sport running behind the scenes."
Brian Cookson, who became British Cycling President in 1996 and has held the role ever since, was among an illustrious list of cyclists including Great Britain's most successful Olympic cyclist Sir Chris Hoy, para-cycling world champion Jon-Allan Butterworth, former Olympian and multiple masters world champion Geoff Cooke and former national junior time trial champion Claire Dixon.
Speaking prior to his torch relay, Cookson said:
"I am of course delighted to have been nominated and chosen to carry the Olympic Torch and am looking forward to the occasion immensely. I feel that, as President of British Cycling, I am not just there as an individual but also as a representative of the whole sport of cycling; our members, our clubs, our staff, and the volunteers - all of the people who keep the sport running behind the scenes. Without these individuals, there would be no Olympic sport, no Olympic Team and no Olympic Medals to be won. I'm proud to be associated with all of these people, from Olympic champions to the youngest novices, especially in such a golden era for our sport and pastime."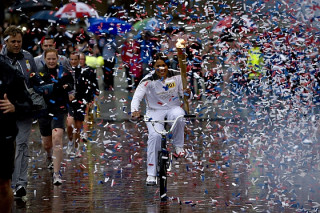 Multiple BMX world champion Shanaze Reade (pictured above) carried the Olympic torch through Salford Quays aboard her BMX on Sunday, with big crowds braving the rain to cheer her on. Reade spoke of the honour of carrying the torch prior to her stint in Salford: "To be part of something so special, involving so many inspirational people, is a real honour and something that I will remember for the rest of my life."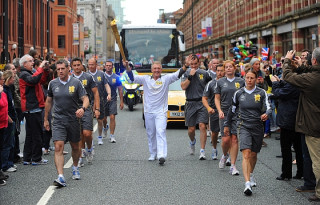 Above: 1972 Olympian Geoff Cooke was nominated as a torchbearer by Sir Chris Hoy: "For me to receive his nomination to be a Torchbearer for the London 2012 Olympics Relay is honestly the greatest accolade I have ever had."
The Olympic Flame arrived in the UK on 18 May 2012 before setting out on a ten week Olympic Torch Relay. It will be carried around the UK by 8,000 Torchbearers. Amongst these are a number of young torchbearers who've made a special contribution to the sport of cycling and have been nominated through both Sport England and the British Olympic Association.
Emma Hayes from Cheshire carried the torch through Cockermouth in Cumbria on 21 June – Emma is a British Cycling Gold Young Leader award winner and won North West Young Volunteer of the Year award for her work with local clubs.
James Unwin from South Yorkshire has overcome severe dyslexia to become a fully qualified coach at the age of 16. The recipient of British Cycling's Gold Young Leader Award and Yorkshire Young Volunteer of the year, James will carry the torch through Sheffield on Monday 25 June.
The late Brian Wright, who sadly passed away earlier in the year, had been nominated to carry the torch through Easebourne. Brian's 15 year old granddaughter, Elizabeth Whiting, will take Brian's place on 16 July.
Brian, Emma and James were nominated through Sport England's nomination process and joining them, through a nomination from the British Olympic Association, will be 19 year old Matt Wise from Brighton. Matt, like James and Emma, is also a Gold Young Leader and South East Young Volunteer Award winner, earning the latter accolade for his member recruitment work at Shoreham-on-Sea Go-Ride Club VC Jubilee. Matt will be carrying the torch through Hastings on 17 July.
To find out more about the torch relay route and torchbearers click here.