---
From Breeze rides to podium performers we look at how British Cycling is closing the cycling gap
Above: Lizzie Armistead winning the National Road Championships in June, one of a host of women's cycling role models.

Tracy Moseley, Victoria Pendleton, Shanaze Reade, Emma Pooley, Manon Carpenter, Nicole Cooke, Annie Last, Helen Wyman, Lizzie Armitstead, Lucy Garner, Laura Trott... the list of top performing British women in cycling is ever-growing and it's clear that British women are spoilt for choice in terms of cycling role models.
And it's just as well. Despite broad female success at the highest level of cycle sport, in terms of participation, there's a big gender gap to close. A recent activity survey concluded that there are three times more men cycling regularly than women, a grass-roots participation figure at odds with the success of our current crop of elite female athletes. It's a gender gap that British Cycling is working hard to close, through a range of groundbreaking programmes, ranging from interventions at the beginner level, through programmes designed to support women into entry level sport, to the establishment of high profile women's series across the cycling disciplines.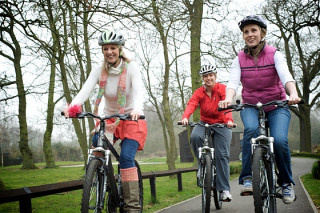 Above: Breeze - a breath of fresh air for women's cycling. More women riding for fun and fitness and fresh air is good for women and good for cycling at all levels.
Many sport governing bodies view participation and activity in terms of a pyramid with a broad base of entry-level participants tapering off to elite athletes at the top, with a pathway in place to support people's journey, whether their aim is to just become more active, or to achieve sporting success at the highest level. A broader pyramid is good news for everyone, with increased activity levels in the mainstream and a greater pool of talent from which to draw out potential champions.
Amid British Cycling's broad range of development programmes lies a rapidly developing pathway to increase women's participation in cycling. For many, the beginning of that pathway is Breeze, our fun, free and informal programme of led rides for women. Developed in 2010 by British Cycling's Recreation and Partnerships department, Breeze, so named to capture fun and freedom of cycling, aims to inspire ordinary women to discover, or rediscover the joy of riding bikes. The Breeze programme is built around a network of women's cycling 'champions', supported by regional development managers and a central team. These Breeze Champions act as women's cycling 'activators' at a local level, leading rides, offering support, inspiration and guidance and generally acting as a nexus for the rebirth of women's cycling in their locale.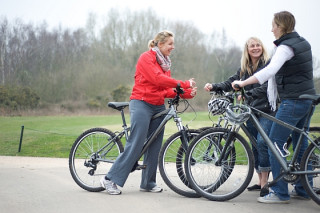 Above: Champions in their own back yard - Breeze Champions are British Cycling's local women's cycling activators.
One such champion is 28 year old Naomi Sharp, a Breeze Champion based in Littleborough, Lancashire. From her family run hometown bike shop 'The Ride Stuff', Naomi is ideally positioned to act as mentor to the growing number of women who attend her regular Breeze rides.
As well as working full time and running women's rides, Naomi also acts as a gateway to an array of British Cycling programmes. Whether it be Cycle Training to help her women ride safely on the road, Bike Maintenance courses to help them repair their bikes at the roadside, or access to more challenging events through Sky Ride Local or British Cycling's event calendar, Naomi is there to signpost women cyclists. We spoke to Naomi to find out more about her, her role and her experiences as a women's cycling champion.
---
BREEZE CHAMPION CASE STUDY: Naomi Sharp
What's your cycling background?
"My husband started mountain biking when our son was born and I caught the bug off him, I love going out on the Pennines, not so keen on up hills but I love fast downhills and a few dodgy bits where you usually hear me squeal when I didn't fall off. I also compete in Triathlons and just put slicks on my mountain bike, I know I'm not going to win but I love taking part and beating my previous times."
How did you find out about Breeze?
"My husband saw an advert in one of the cycling magazines, so I looked it up on the website and sent an email asking for more information. As soon as I got the reply with more information including what it was all about I just knew I had to do it."
What made you decide to become a Breeze Champion?
"I hate going into a bike shop and someone talking past me to my husband thinking I don't know what I want. I'm fed up with the stigma of females riding bikes. Cycling is a great activity for people trying to lose weight – anyone can do it. And the fact that families can join in as well is even better."
What do you like about being a Breeze Champion?
"I love meeting new ladies and finding how I can help them; not only on my rides but with other aspects of riding, whether it be skills or making sure their bike is in a comfortable position for their riding style. Little things make a big difference to their enjoyment. I like being able to chat to the ladies on the rides and swap stories or learn a new fact about something totally random."
What sort of women come on your rides?
"I have a wide mix of abilities and ages that come on my rides. The majority seem to be ladies who haven't ridden for a while and are getting back into it."
From speaking to your Breeze riders, what do they see as the main barriers to women cycling?
"Riding on the roads is a big thing for my ladies because they all assume we should be stuck in the gutter. Time is also another one, I run my rides in an evening as most people have families and want to spend their weekends with them."
How do you think Breeze can help dismantle those barriers?
"I think awareness of how to ride on the road properly would be a big help."
What's your favourite moment from your experience as a Breeze Champion?
"Turning up to the meeting point of my ride to find that two ladies had turned up on a tandem (that I then had a quick go on round a car park!)"
---
For women who are inspired by Breeze and want to take their cycling to the next level, British Cycling has been working to ensure that pathways exist to help aspiring women into cycle sport. One such initiative took place throughout the 2011 season at Tameside on the outskirts of Manchester, organised by British Cycling's North West Regional Events Officer, Jenny Gretton.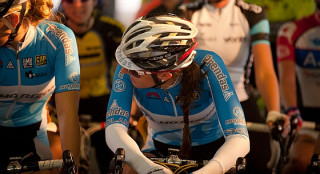 Above: Top women's team Horizon Fitness Prendas Ciclismo prepare to race. Grass roots coaching programmes, like the Tameside example, have emerged to provide the ideal preparation for new women racers.
10 weeks of Women's Road Race training took place at the Tameside Road Circuit during February, March and April. The sessions attracted female riders from a variety of backgrounds including Road, MTB, Triathlon and Leisure riding. Some were first time road racers and others experienced riders. The sessions proved very popular and offered something for everyone including group riding skills, advice on cornering, starts, sprinting, gear selection, race scenarios and feedback on bike positions.
Following the training sessions, monthly Go-Race events were delivered in conjunction with the Tameside Racing League. The 30min events were welcomed as an entry point to competition by the new riders as they provided an opportunity to compete against other riders of similar ability/experience and during the season we have seen some very animated racing in these events.
Every woman who attended the sessions at Tameside was a winner. However, one woman stood out. Nikola Butler embarked upon the training at the beginning of the year with no previous experience of road racing. NiKola, with a background in rowing, was already a regular participant in sport but got involved with the sessions to learn the craft of road racing – gaining confidence in the bunch, road racing tactics and all of the other vital skills needed to survive and succeed in road racing.
---
CASE STUDY: Nikola Butler - From beginner to racer in a season
"I came into cycling relatively late at the age of 27 from rowing after a friend persuaded me to buy a bike and do an alpine cycling challenge with him. Being competitive I quite quickly wanted to get faster and plucked up the courage to join a local club and ask about racing. I was directed at cross racing because it was local, friendly and it wouldn't be too obvious if I was coming last! I borrowed a cross bike, fell off twice in warm up but had a great time and didn't come last. Result!
"On the advice of a couple of people and a curiosity to find out more I gave up rowing a year later and started to race cross. I had a few good local races and tried a few national trophy races which were not so successful so was advised to try some road racing to make me faster. This was a really daunting prospect. I could hide in a cross race but wasn't looking forward to getting dropped off the back of a bunch of girls. I made all the right noises about racing but really hadn't a clue how to start training and get race fit. I don't come from a long line of cyclists so didn't have a lot of people to turn to. I did a few weeks trying to stay on the club chain gang for as long as possible and then I heard that British Cycling was running some sessions for women who wanted to road race in Ashton under Lyne.
"The club encouraged me to go but I couldn't get anyone else to come along with me so I turned up to the 2nd session on my own and very nervous. There were women there with lots of different goals. Some wanted to race, some just wanted to get more confident and skilful. The sessions were so successful they were extended and ran for a total of 10 weeks, finishing just in time for the start of the road season. Jenny Gretton was really encouraging and advised us on what races to enter and some women only races were arranged alongside the Tameside League.
"After the sessions I felt much better equipped to tackle a race so I took Jenny's advice and entered some races I wouldn't have even considered entering before the sessions. And I did OK. Since then I've developed lots as a rider and am looking forward to next season. I'm in a women's team and racing all over the country and am starting to train as a cyclo-cross commissaire and hopefully as a coach soon. It's safe to say that without that training I wouldn't have had the courage or ability to achieve most of what I have achieved this year. I'm pretty sure it's also translated to my results in cross racing too…
"The last, but very important, thing was that I met a great bunch of women and have kept in touch with quite a few of them. It's always great to see a friendly face at races and to find other women to ride with.
"So to anyone that wants to improve your skills, speed or both and get to know other women riders – look out for this type of thing. I can't recommend it enough and I really hope it runs next year. News of their success has spread and lots of people have asked me how I got involved. Be brave – people are friendlier than you think…"
---
Sessions like those at Tameside are the perfect feeder into the growing list of women's specific racing opportunities. In Road Racing, the National Women's Series is now well established and has been recently joined by the Johnson's Health Tech series, which joined the Halfords Tour Series on its whirlwind summer tour of Britain's towns last summer.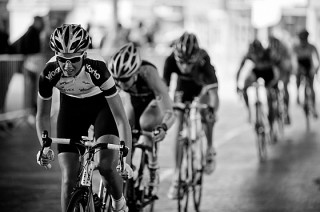 Above: Women's racing is now firmly embedded into the calendar, with more events and series emerging year on year.
Perhaps the final point is that alongside British Cycling's women's-specific interventions such as Breeze, Tameside and women's specific series, women's cycling opportunities have long been fully embedded into British Cycling's participation structure. Road racing, Mountain Biking, BMX, Cycle Speedway, Cyclo-Cross and Track Racing all have long established women's racing categories offering women opportunities to compete and achieve, whatever their cycling goals.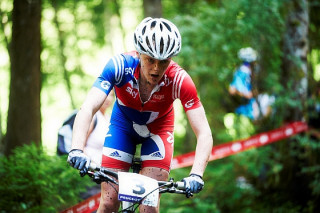 Above: Annie Last, on her way to a Silver medal in the U23 Women's Cross Country race at the 2011 World Championships. We're working hard to close the cycling gap and with British Cycling's help, inspiring women like Annie, Naomi and Nikola are leading the way.