By Mark Ashenden | 27 July 2011
One year out from the London Olympics and you'd think the boss of one of the UK's top sports would be talking of sleepless nights and the growing pressure of delivering medals in return for millions of pounds of investment, desperate not to let the country down. Not so for the man in charge of British Cycling, Ian Drake, as found out when he spoke to him on the eve of the celebrations to mark the year-to-go mark ahead of London 2012.
Three years ago Britain's cyclists hurtled around the roads and velodrome in Beijing at speeds up to 45mph on their way to an incredible 14 Olympic medals (eight gold) and 20 Paralympic medals (17 gold) and despite weighty expectations and demands for more pedal success on home soil in 2012, there is little to suggest the sport's grand master-plan of CEO Ian Drake is anything but firmly on course - on and off the track.
Rebecca Romero celebrates one of GB's 25 gold medals from 2008
"Winning medals is huge, and being the best is the key aim of British Cycling and our partners" insists the 40-year-old, who is responsible for a £27 million pot from UK Sport between 2009 and 2013. "But we have a much wider role than that and our whole plan is oriented around inspiring participation and using our elite success to drive more people to get into sport."
"The opportunity to host an Olympic Games brings with it the tremendous responsibility of legacy. Our vision is clear for legacy - we want to get to 2012 and have a nation of active cyclists watching British cyclists succeed, and not a nation of couch potatoes."
"We are hugely dependent on the support of UK Sport and Sport England. Plus our partnership with Sky is one of the main reasons we are in such a strong position - both in terms of elite success and grass roots participation. Sky have embraced our vision and want to help us deliver it and leave a legacy for cycling. We are now starting to make really good progress in terms of growth across cycling as both competitive and recreational activity."
The Government wants one million people playing more sport by 2012/13 and recent Sport England figures showing a decline in major sports like football and swimming make gloomy reading. Activities on two wheels though are bucking the trend in a very large way as more and more swap their couch for a saddle.
Sky Ride London, a memorable day for thousands of cyclists
Over the past two years, cycling's once per week participation numbers have risen by over 75,000, British Cycling membership currently stands at 38,053 - an increase of 36% since 2009 - and there are now more events than ever for competitive and non-competitive riders. Schemes like Sky Ride (organised events around the country) and Go-Ride (for young people) have been paramount in helping to boost numbers.
Eyeing Sport England's participation target of 125,000 by 2013, Drake adds: "We are bang on target to deliver. There is not a lot of growth across the sports participation at present but we're delighted to be one of those National Governing Bodies delivering an increase."
"The only way of getting into British Cycling used to be through racing. We now have great diversity beyond competition. Diversification to embrace all forms of cycling is absolutely the foundation of our plan and it enables us to do more and have a bigger impact which is why we are seeing more people getting involved on a bike for the first time with British Cycling."
"We connect with young people in schools and in communities with Go-Ride, with clubs, and people of all ages and abilities through our sky ride local programme and our women's led ride network, Breeze. Our events calendar is expanding at a phenomenal rate across all the competitive cycling disciplines and non-competitive events such as Sportives so there's never been a better time or opportunity to give cycling a go. In fact however you ride your bike you can do it with British Cycling and that's really powerful.
"Membership is the one thing that keeps me awake sometimes though. In 2005, we had 15,000 members and you can't support a sport with that. The trend across governing bodies is not great but last month we saw a 23% year on year increase in membership taking us to over 38,000 members for the first time. Other governing bodies would say fantastic but it's not enough and we need to do more and accelerate that growth."

Members - British Cycling's bottom line
Drake admits that until recently facilities has been the sport's "biggest Achilles heel". However, the growth in traffic-free facilities, such as BMX tracks, mountain bike venues, closed road circuits and velodromes (London's upgraded track at Herne Hill is due to re-open in September), Drake's dream of replicating the safe venues in swimming and athletics, which enjoy such luxuries as changing rooms and social areas, is fast becoming a reality.
"These issues have been going on for decades and a lot of energy has gone into this," says Drake. "These facilities allow us to set up new support networks and increase participation. We have seen usage figures going through the roof where ever we have developed a new facility."
Another area of importance to Drake is the need to Keep Racing on the Roads where British Cycling has been working really hard with the Department for Transport (DfT) and the Sports Minister to help improve the regulations that cover race organisers. Drake said: "A lot of progress has been made here and our members have been really helpful in building pressure on the DfT with their responses to the government's recent Red Tape Challenge."
The relentless drive and passion for improving the sport has clearly guided Drake and his meteoric career rise since joining British Cycling in 1997. He even endured being turned down for roles prior to 1997 along the path to seizing the CEO reins in January 2009.
Six months into his tenure as CEO he boldly predicted a Tour de France British winner within five years, a million people cycling, a membership of 100,000 and the sport to be embraced under one British Cycling umbrella. Two years later, only a massive pessimist would dismiss his claims.
"My ambitions remain the same," Drake says. "This year on the elite side, we have seen our vision materialize and the pathway for future British talent has started to come through. Team Sky boss Dave Brailsford has done brilliantly. The first year of Team Sky was tough but the rate of progress and learning has been amazing as demonstrated in this year's Tour, and we are really starting to see the benefits now coming back into the GB team."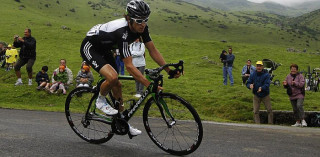 Geraint Thomas, key member of Sky and GB teams
"In the Olympics, we've got as good a chance as anybody. We have fantastic athletes and the fire and desire to win is as strong as ever within the whole team. The key now is qualifying for places but we're in a good position. We know it will be a challenge but we are determined to maintain the status of world's leading nation. And what better way to celebrate a home Games and its build-up than get on your bike!?
"Overall, cycling is in a really healthy position because most people have ridden a bike and most have a friend or colleague who ride. And it's spreading. As a sport and activity we are very fortunate we have this huge growth and there is potential for much more. I have the best job in the world. I always wanted to work in cycling and make a difference - particularly to the volunteers who work tirelessly to make our sport happen.
"I have a very simple view of sport. Nobody owns it but it you ever do get an opportunity to work within it you have a huge responsibility to leave it in a better place than when you started.
"I finally got an opportunity to shape the sport and the fire burns greater then ever. We are doing great things and we are in a better place than we were a couple of years ago but there is so much more we can do and need to do.
"I'm even going back on a bike for the first time in 10 years and starting to race cyclo-cross again. I turned 40 last year and my last race was The Three Peaks in 2000. It's just brilliant to see so many people now out and about on bikes and having given up to focus on work I just now want to get back on the bike which is what brought me into the sport in the first place."