It was a hot and humid weekend as the HSBC UK | National MTB XC Championships returned, at last, to Newnham Park in Plymouth. After missing out on racing last year there were a lot of hopes and expectations riding on the event this year.
Thankfully the promised thunderstorms never materialised so the racing stayed fast with the course bedding in well over the two days. Relatively little climbing meant it was a full-on effort all the way around and the rock garden provided a technical challenge for the riders and entertainment for spectators.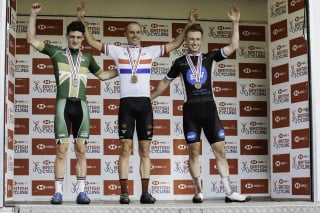 The men's senior race was close-fought from start to finish, with the splits between the top few coming down to mechanicals and a bit of race luck. Defending champ Frazer Clacherty (Team Inspired) took the win with Cameron Orr (Team Inspired) and Chris Rothwell (BW Cycling) chasing him all the way for the silver and bronze medals.
In the senior women's race, Isla Short rode smoothly throughout to take a convincing gold ahead of Kerry MacPhee (Bike Trossachs) and Holly MacMahon (Bianchi Dama).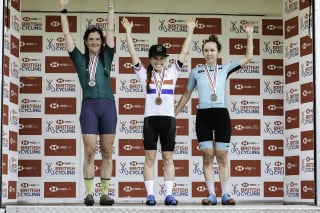 The U23 men's event was another full of incidents and close racing with Harry Birchill (Scott Racing) taking the win from team mate Charlie Aldridge (Scott Racing) and Rory McGuire (Leslie Bike Shop-Bikers).
The U23 women's title was won taken by Harriet Harndeon (Trek Factory Racing XC) from Anna Kay (Team Rupelcleaning) and Anna Flynn (Edinburgh RC).
Adrian Lansley (Pedalon.co.uk) dominated the men's vets field with a much closer battle being fought behind him. Here, Marc Chamberlain took second and Philip Glaze (Fishface Cycles RT) took third.
In the women's vet race, Maxine Filby (Datalynx-Parensis) not only claimed the title but an historic double as the national stripes were added to the National Downhill Vet Championships title she took just one week ago. Ruth Miller (Ben Thomas Coaching Club) took second with Karen Heppenstall (Origin Race Team) in third.
The junior men's race went down to a sprint for the line between Corran Carrick-Anderson (T-Mo Racing) and Ben Chilton (Spectra Wiggle p/b Vitus), with Nathan Smith (Garden Shed UK-Scott) taking bronze. In the women's junior race Elena McGorum (Peebles CC) won from Ella Maclean-Howell (Tofauti Everyone Active) and Zoe Backstedt (Tormans-ACROG).
Philip Pearce (Hope Factory Racing) took the win in the men's masters category with David Bone (Racing Club Ravenna) in second and Gary MacDonald (Nevis Cycles Racing Team) third.
Men's Grand Vets was won smoothly and convincingly by Nick Craig (Scott Racing) with Paul Hopkins (Gillingham and District Wheelers) second and Anthony White (Royal Forest Dean CC) taking third. Catherine Kilburn (Mid Devon CC) was the local winner in the women's grand and super vets cat followed by Carolyn Spiers (Kendal CC), while the bronze went to local rider Jackie Shute (Mid Devon CC).
In the men's Super Vet category it was a case of turning back time as three familiar names took the podium, just the category had changed: Peter Harris (Pearce Cycles RT), Bruce Rollinson (All Terrain Cycles Ride In) and Roy Hunt (Team Bottechia) took the honours.
In the youth category Max Greensill (Hope Factory Racing) won the male race from Ethan Grimshaw (North Cheshire Clarion) and Ewan Dix (Origin Race Team). In the female youth it was Emily Carrick Anderson (T-Mo Racing) taking the win from Libby Bell (Garden Shed UK-Scott) and Imogen Wolff (Shibden CC).
In Juvenile male the gold medal was won by Leon Atkins (Welwyn Wheelers CC) with Cian Evans (The Bulls) in second and Innes MacDonald (Edinburgh RC) in third. In the female juvenile category Tulsi Bakrania (WXC World Racing) won with Aelwen Davies (Velo Myrddin CC) and Evie Strachan (Stafford Road Club) picking up the other medals.