Plans to provide more family-friendly cycling facilities at Queen Elizabeth Country Park have been announced, with the aim of helping more people to cycle and to also enjoy off-road mountain biking.
Alongside investment from Hampshire County Council, the 'Bike Base' project has been given the go ahead having secured funding from Sport England/British Cycling's Places to Ride fund.
The construction of Bike Base is expected to start later this year and complete in 2022.
Councillor Edward Heron, Hampshire County Council's Executive Member for Recreation, Heritage and Rural Affairs, said: "Bike Base will deliver improvements to the existing cycle facilities at Queen Elizabeth Country Park with the aim of encouraging even more people to enjoy biking, especially families or anyone who wants to try off-road biking in this beautiful setting for the first time.
"This is all about providing ways to help people to build their confidence and skills at their own pace in a safe environment. Thanks to this funding boost from Sport England/British Cycling, Hampshire County Council can now press ahead with these exciting plans to ensure that whether a novice or a well-seasoned cyclist, Queen Elizabeth Country Park will consolidate its reputation as a must-go biking destination."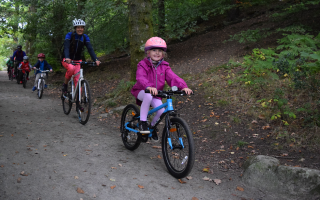 Charles Johnston, Sport England Executive Director of Property, said: "The national love of cycling has shot up over the past year, offering many of us a small sense of freedom as the pandemic restricted our lives. We are delighted that the Places to Ride fund is supporting the Queen Elizabeth Country Park to get more people and families out on bikes and enjoying every benefit that cycling offers."
Ruth Miller, British Cycling Delivery Manager (South), said: "This is a really exciting project to broaden and diversify the cycling user base at Queen Elizabeth Country Park. It's fantastic to see plans for new trails and signage that will make it easier for newer riders, while also providing a fun, dedicated space for people to practise new skills before heading out onto the much-loved blue and red trails, which are also going to be enhanced. E-Bikes are proving more and more popular, and the charging station will provide an opportunity to top up for those looking for a big day out at the park and on the linked South Downs Way. A real something for everyone, and we're delighted to be working with Queen Elizabeth Country Park to inspire more people to ride bikes and have fun in the area".
Queen Elizabeth Country Park Bike Base will deliver a package of cycling improvements including:
A mountain bike skills area will introduce riders to the different features and surfaces they will experience on the park trails. The area will enable them to hone skills and build confidence before venturing off-road.
The mini wheels track will provide a great place for young children to cycle.
A new 'green' cycle trail for mountain bikes – this short route close to the new skills area will provide novice riders with a chance to try out their skills. Green trails are aimed at novice riders with only basic bike skills required.
Improvements to the existing 'red' cycle trail to match the award-winning experience of the 'blue' trail already in the park (MTB Volunteer Trail of the Year 2018). Red trails are some of the most challenging trails and only for proficient mountain bikers with good off-road riding skills.
A bike wash and bike repair station.
Charge points for e-bikes.
Improved signage and information points.
Events and activities to encourage new or lapsed riders.