The final round of the HSBC UK | National Cross-country Championships took place at Cannock Chase, Staffordshire at the weekend, with fantastic crowds cheering on the riders throughout the racing.
Cannock Chase provided a technical finale to the 2021 series, with tight forest turns, deep gulley drops, savage rock gardens and the dreaded bomb-hole that tested everyone's nerves. The course finished with a gruelling climb, before opening up for a flat run to the finish.
The course changed dramatically over the weekend with rain overnight introducing slippery roots and the classic 'Cannock sludge'.
The Men's Sport category opened Sunday's racing, taking on the dampest conditions of the weekend. Only 44 seconds separated the podium riders as a three-way battle took place, with a sprint finish seeing Jonathon Mould and Alex Touche finish in a dead heat for joint first, with Aled Jones closely taking third.
The afternoon began with the women's categories. Josie Nelson pipped Anna Flynn to first place by 3 seconds, followed by Joanne Thom in the Women's Elite race.
Elena McGorum stormed to victory again in the Women's Junior category, finishing a comfortable 3 minutes ahead of her competitors. Lotta Mansfield took second and Kylie Vaudin finished third. The Women's Expert race saw Emily Bridson take first place, Melissa Baker second and Libby Harman third.
In the Elite Men's category, Cameron Orr came out victorious after a long battle across the 7 laps, followed by Christopher Rothwell in second and Ben Wadey in third.
Gary MacDonald took the win in the Men's Expert category, closely followed by Matthew Lawton in second. There was a sprint finish for third place, with Thomas Timberlake using his last bit of energy to power across the line to take third ahead of Kishan Bakrania.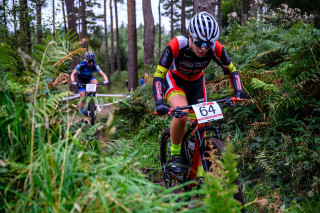 In the Junior Men's race, Joseph Blackmore stormed to victory with a comfortable 6 minute lead, with Ben McMullen taking second and Sam Chisholm in third.
As this was the final round of the 2021 series, we saw not only victories on the day but also HSBC UK | National Cross-country Series winners crowned. Here are your 2021 champions:
Male Elite: Ben Wadey
Male Expert: Philip Pearce
Male Junior: Joseph Blackmore
Female Elite: Jane Barr
Female Expert: Emily Bridson
Female Junior: Elena McGorum
Congratulations to all the riders and a massive thank you to the team at Run and Ride for all their time and effort in organising these events. We, of course, cannot forget our wonderful Commissaires, Marshalls and Medics who without them these events could not take place, thank you.