Cyclopark, Gravesend played host to the opening rounds of the HSBC UK | National BMX Series last weekend.
The atmosphere was electric from Friday night practice and rolled into race day as the riders met up with friends they hadn't seen for months. The weather conditions were perfect and the spectators and riders were treated to super-hot conditions both on and off the track.
In the Championship classes, Great Britain Cycling Team riders Beth Shriever and Kye Whyte were both present and the spectators were treated to some top level racing with the pair putting on a show of their on track skills.
Round 1
Shriever was dominant as she showed why she's the nation's number one female and in the final she had a lap time of just 35.167 seconds.
Oliver Cope took his first Junior Men win he went wire to wire in fine style. Tai Suleyman kept Cope honest with some local track knowledge shining through in 2nd and Spencer Gibson chased them down in 3rd
Whyte delivered in the men's class as he put in a hot lap in the final that had the crowd glued to the on track action. Chasing him down for the podium was fellow GB athlete Paddy Sharrock taking 2nd and rookie Elite racer Matt Hutt who showed his mettle with strong 3rd place finish after a last turn pass for the spot.
Championship Women
1st Beth Shriever
2nd Emily Hutt
3rd Markella Houli
4th Eleana Stafford
5th Lauren Stack
6th Morgan Haslam
7th Aimee Bancroft
Junior Men
1st Oliver Cope
2nd Tai Suleyman
3rd Spencer Gibson
4th Daniel Alvarez
5th Leon Parker-Livesey
6th Mackenzie Rennison
7th Cameron Reid
8th Finley Clark
Superclass
1st Kye Whyte
2nd Paddy Sharrock
3rd Matt Hutt
4th Calum Strickland
5th Tyreese Bradshaw
6th Dean Reeves
7th Chad Hartwell
8th Jay Bovill
Round 2
The weather turned it up a notch for round 2 and the riders were battling temperatures in the high twenties along with the track and each other as they worked their way through the rounds towards the main events.
The Championship Women's Podium went the same as day one with Shriever stepping things up a gear and putting in a 34.701 second lap time of sheer class. Hutt and Houli were best of the rest in 2nd and 3rd as Eleana Stafford chased them down just a fraction off in 4th.
Summing up the weekend, Shriever commented "What a great weekend! Sunshine, fast track and two wins. It was great to see everyone and see the level of racing in all the classes The future of British BMX looking bright."
The Junior men's podium was also repeated and Copes time would have put him in a drag race for the podium in the Superclass. Tai Suleyman rode a short track on a wide bike to keep Spencer Gibson off the second step of the podium. Just a little way back in 5th was Mark Fletcher who made his first Junior main at just 15 years old.
A fitting end to the race weekend was the Superclass final and it was Whyte who delivered the goods for the second day running in a real show of speed and skills. Matt Hutt went one better to take 2nd and Jay Bovill claimed 3rd and some awesome technical riding.
After the win, Whyte said "It was great to be back racing nationals here at Cyclopark. The racing in all the classes was amazing and taking the wins this weekend in front of the Peckham kids was the icing on the cake."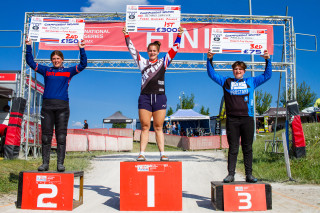 Championship Women
1st Beth Shriever
2nd Emily Hutt
3rd Markella Houli
4th Eleana Stafford
5th Lauren Stack
6th Morgan Haslam
7th Aimee Bancroft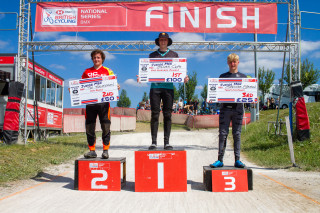 Junior Men
1st Oliver Cope
2nd Tai Suleyman
3rd Spencer Gibson
4th Alexander Talbott
5th Mark Fletcher
6th Finley Clark
7th Leon Parker-Livesey
8th Daniel Alvarez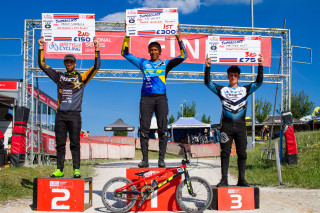 Superclass
1st Kye Whyte
2nd Matt Hutt
3rd Jay Bovill
4th Calum Strickland
5th Dean Reeves
6th Paddy Sharrock
7th Tyreese Bradshaw
8th Joel Clarke