Kadeena Cox defended her Paralympic title in stunning fashion at the Tokyo Games, setting a world record on her way to a gold medal in the women's C4-5 500m time trial.
Her Great Britain team-mate Jaco van Gass was also on the podium for the second time in as many days, as he took bronze in the men's C1-3 1000m time trial at the Izu Velodrome.
But Cox was able to become the third British rider at these Paralympics to stand on the top step, adding to the golds already won by van Gass himself and Dame Sarah Storey in their respective individual pursuit events.
"I wanted to try and enjoy it because in Rio I was trying so hard to go well that I didn't enjoy it," said Cox.
"So, it didn't really hit me until I got on the podium and realised what I had done; it's a bit overwhelming.
"I got a lot of messages from my family and my grandad has not been well. He's been in and out of hospital while I've been here and he just sent a message saying 'go and get gold.' So this one is for him."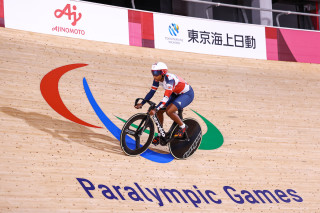 Cox played the key role in a thrilling "kilo" time trial which saw the three riders before her all take over at the top of the leader board.
That left the 30-year-old Leeds rider under pressure in the final heat, but she turned in an unstoppable performance, covering the first half-lap in almost three-tenths of a second faster than her closest rival.
She stormed around the two-lap event in an adjusted time of 34.433 seconds, setting a new world record in the C4 category and beating the Paralympic record she set herself in winning gold at Rio 2016.
That left her a full second ahead of Canada's Kate O'Brien - a huge winning margin in such a short, explosive event.
In the men's version of the time trial - run over four laps, 1000m - van Gass rode the fastest time, by nearly three seconds, with a new world record in his C3 category of 1:05.569.
But there were also world records in the C1 and C2 categories and, with their adjusted times factored in, China's Zhangyu Li won gold and Alexandre Leaute took the silver.