Jack Watts and Elsa Rendall Todd were crowned the elite park winners of the fifth National BMX Freestyle Series round at Unit23 in Dumbarton.
Park
Having both achieved podium results in previous rounds of the series, Elsa Rendall Todd and Jack Watts proved that hard work and persistence pays off, with comfortable wins in the elite men's park and elite women's park categories.
Watt's scored 91 points with his signature mix of style, tech and burly tricks. Kaz Campbell was the surprise of the contest, usually known purely as a stylish rider. Campbell secured second place with a score of 87, having pulled a flawless run with incredible lines and some unique and creative tricks. Second to fifth place were only separated by one point, showing just how close the competition was. Ben Towle finished third with 86.67 points, as Kaine Mitchell placed fourth with 86.33 points and Tom Russell rounded off the top five with a score of 86.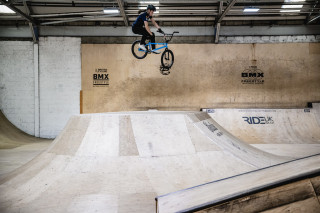 First place qualifier, Mike Hullock, unfortunately took a very heavy slam in his final run and was unable to continue. British Cycling and all the Backyard staff wish Hullock a smooth and speedy recovery.
In the elite women's park category, Rendall Todd put together an incredibly clean run, making full use of almost every ramp in the building. Todd combined fast lines and gaps with some of the biggest tricks of the contest, scoring a massive 82.33 points. Holly Pipe didn't go down without a fight, pulling a clean back flip and tricking almost every ramp she hit to finish on a score of 71.67. Third place went to the experienced Sammy Turner with a final score of 58.67.
In the under-15 boys' category, first place went to the American Caiden Cernius after an intense battle with Welsh rider Harry Gorman. Ellie Gunnell won the under-15 girls' category, which puts her into the overall series lead. Lukas Kennedy and Esme Morris once again were the winners in the under-12 categories, and the under-9 events saw Oliver Baker and Alex Cartmell take the honours.
Tyler Wainwright found himself back on the top of the podium in the amateur men's park competition closely followed by the style cat, Ike Duly, with Logan Van finishing in third place.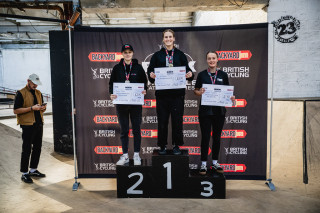 Street
The elite street competition showcased some of the best riding we have seen all year. The competition was fierce, and the judges had to be sharp. Antonio Carrizo-Smallwood finished on top with a score of 120.66 after a clean run and a monumental effort in the best trick jam. Stuart Chisholm scored 116.66 to take second place, and Jack Miller took third place with 114.33 points. Joe Jarvis and Jensen Murray were close behind in fourth and fifth place, respectively.
Erin Finnigan won the women's street competition to move within two points of the overall series leader, Alex Cartmell. Cartmell finished in second at this round with Tia Walton in third.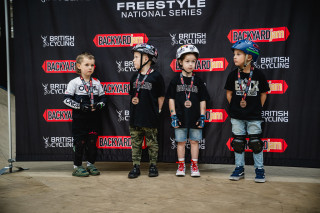 The amateur street competition was another heated one with only one point between Aiden Darling and Joe Smith. Darling ultimately impressed the judges more and took the victory with 109 points. Joe Smith finished second and Tommy Smith came in third.
The riders will now look forward to the final round of the series over the weekend of the 22-23 October, which will double up as the rescheduled national championships.