Newly-crowned BMX freestyle world champion Kieran Reilly continued his excellent run of form with victory in the fourth round of the National BMX Freestyle Series at 4Motion in Darlington, with Sasha Pardoe taking the elite women's victory.
Park
Having both enjoyed victories in rounds one and two of this year's national series, Reilly and Pardoe showed their class once again to extend their leads in the overall series standings.
Reilly's score of 93.25 was good enough for victory in the final, ahead of Mike Hullock (89.00) and Kaine Mitchell (86.75), while Pardoe secured victory with a score of 90.25. She was joined on the podium by recent world championships debutant Holly Pipe (71.50) and Moz Chudley (60.25).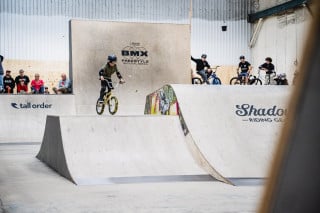 In the age group categories, Harry Gorman and Amelia Flora took the under-15 titles, Lukas Kennedy and Esme Morris won the under-12 titles, and the under-nine events were won by Alex Cartmell and Cruz McCran.
In the amateur park category, Ellis Lloyd took the victory ahead of Mitch Dooley and Tyler Wainwright, in what was an incredibly tight contest, where the top four places were split by just four points.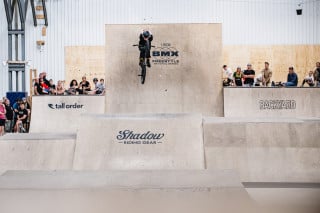 Street
In the elite street event Murray Loubser took his first national series victory of the year with a score of 123.33. Series leader Alex Kennedy put in another strong performance to take second place and extend his overall lead, while Joe Jarvis took third place and his third podium of the series.
Alex Cartmell scored 79.00 to take the victory in the women's street, and a hotly-contested battle in the amateur street saw Joe Smith take the win, with less than a point separating him from second place Drew Elias. Tommy Smith rounded off the podium in third.
The series continues at Unit23 in Dumbarton on Saturday 30 September and Sunday 1 October, and you can find the full series dates and information here.