Paul Heard retained his British men's open championship title once again at the Cycle Speedway British Individual Championships as Maddie Saunders took the women's individual win after three brilliant days of racing across Hull, Sheffield and Astley and Tyldesley.
Men's open
The opening day of qualifiers saw wins for Zac Payne (Kesgrave), Noah Woodhouse (Kesgrave) and Reece Pollitt (Bury) in some closely contested racing at Sheffield and Hull, before Ashley Hill (Ipswich), Josh Brooke (Great Blakenham) and Kenzie Bennett (Poole) also secured qualifying wins on the second day of the championships.
The final at Astley and Tyldesley on day three saw Paul Heard (Birmingham) hit back after his seventh round finish in the qualifiers, and won 17 sensational points when it counted to be crowned the British open champion once again, having shown fantastic speed and strength across the weekend to cling to his title. Heard had stiff competition from Brooke on 16 points, who finished in second to make it a 1-2 repeat of last year. Woodhouse came in third with 15 points – a brilliant effort from the junior ride.
Women's individual
In the women's individual final, Maddie Saunders (Poole) tore up the track at Astley and Tyldesley after a closely fought competition against Lauren Hookway (Exeter). Saunders was hungry for the national title after a third-place finish at the 2022 edition, and took a brilliant 20 points to be crowned the winner, one point ahead of Hookway. Lily Parr (Kesgrave) came third on 16 points.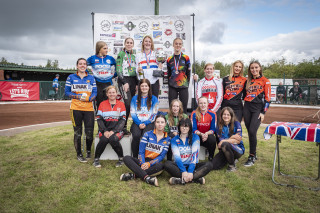 Junior individual and under-16
Leon Penketh (Southampton) took the junior individual crown after a tussle with Noah Woodhouse (Kesgrave), who finished second in the men's open final. Penketh showed impressive talent to take 18 points ahead of Woodhouse on 17, while John White (Astley & Tyldesley) took third on 16 points.
In the girl's under-16 individual championships, Charlotte Geach (Exeter) won the title confidently on 16 points, ahead of Lily Parr (Kesgrave) and Lexie Curtis (Poole) on 14 points. Ryker Jolly (Kesgrave) took the boy's equivalent on 18 points ahead of JJ Wildman (Exeter), while Leon Penketh (Southampton) took third place.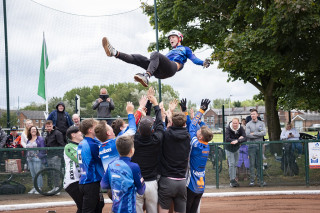 Under-14 and under-12
Lily Parr (Kesgrave) took home the victory in the under-14 girl's individual championships with a brilliant performance on Cookson circuit, winning all four races for the maximum 16 points, as teammate Amberley Gant came in second just one point behind. Sheffield rider Lacey Ackroyd rode well on her home track to take third place on the podium.
Harvey Shumake (Kesgrave) won a closely fought battle in the under-14 boy's individual championships, winning 19 points to take the title. Shumake was challenged by Luca Woodhouse (Kesgrave) and Frank White (Astley & Tyldesley), with all three having unbeaten runs until they met in the 15th heat. While Woodhouse took the win on that occasion, Shumake won his final race over Jude Wilcockson (Coventry) to take the overall victory.
Frank White (Astley & Tyldesley) retained the under-12 boy's individual title after an incredible unbeaten 20 points. White, Spencer Glenton (Hull) and Connor Jarrett (Kesgrave) were neck and neck, having remained unbeaten until heat 14, where the three faced each other with White taking the win. Jarrett finished in second place on 19 points, while Glenton took home third on 18 points.
Demi-Blue Harris (Kesgrave) was the ultimate under-12 girl's champion after four wins in a row. Masie Baker (Ipswich) showed some brilliant determination to take second place, with Lola Martin (Hethersett) rounding off the podium in third ahead of Poole's Millie Shear.
Overs
Gavin Wheeler took the over 40 British title with a fantastic win on 20 points, ahead of over 60 winner Phil Gard (Poole) on 17 points, and Kevin Burns (Leicester) on 16.
Norman Venson (Leicester) retained his national title in the over 50 category ahead of Steve Harris (Astley & Tyldesley), with Venson taking the win after the run off, while Gard came in third.
Gard also retained his over 60 title with an exciting win on 16 points, finishing ahead of Glyn Morgan (Hethersett) and Colin Rowles (Poole) on 14 points.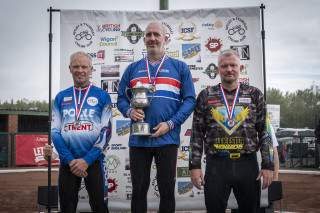 Results
Open men
Paul Heard (Birmingham) 17
Josh Brooke (Great Blakenham) 16
Noah Woodhouse (Kesgrave) 15
Ben Clarke (Ipswich) 14
Women's individual
Maddie Saunders (Poole) 20
Lauren Hookway (Exeter) 19
Lily Parr (Kesgrave) 16
Charlotte Geach (Exeter) 15
Junior individual
Leon Penketh (Southampton) 18
Noah Woodhouse (Kesgrave) 17
John White (Astley & Tyldesley) 16
Kenzie Bennett (Poole) 16
Under-16 boy's individual
Ryker Jolly (Kesgrave) 18
JJ Wildman (Exeter) 18
Leon Penketh (Southampton) 17
Charlie Parr (Kesgrave) 17
Under-16 girl's individual
Charlotte Geach (Exeter) 16
Lily Parr (Kesgrave) 14
Lexie Curtis (Poole) 14
Daisy Sherwood (Poole) 13
Under-14 boy's individual
Harvey Shumake (Kesgrave) 19
Luca Woodhouse (Kesgrave) 18
Jude Wilcockson (Coventry) 18,
Frank White (Astley & Tyldesley) 17
Under-14 girl's individual
Lily Parr (Kesgrave) 16
Amberley Gant (Kesgrave) 15
Lacey Ackroyd (Sheffield) 14
Yoanna Gilpin (Coventry) 12
Under-12 boy's individual
Frank White (Astley & Tyldesley) 20
Connor Jarrett (Kesgrave) 19
Spencer Glenton (Hull) 18
Oliver Banyard (Sheffield) 17
Under-12 girl's individual
Demi-Blu Harris (Kesgrave) 16
Maisy Baker (Ipswich) 11
Lola Martin (Hethersett) 9
Millie Shear (Poole) 8
Over 40
Gavin Wheeler (Poole) 20
Phil Gard (Poole) 17
Kevin Burns (Leicester) 16
Lee Aris (Wednesfield) 15
Over 50
Norman Venson (Leicester) 19
Steve Harris (Astley & Tyldesley) 19
Phil Gard (Poole) 17
Jason Ashford (Great Blakenham) 15
Over 60
Phil Gard (Poole) 16
Glyn Morgan (Hethersett) 14
Colin Rowles (Poole) 14
Steve Nation (Poole) 14